About Happy Scribe
Happy Scribe uses the latest voice recognition technology to transcribe your video file to text within a few minutes. We accept over 15 video file formats including AVI, MOV, FLV, WMV, QT, and MP4. There is also no file size limit and we are able to transcribe over 119 languages and accents, including English, French, German and Spanish.
Start Free Trial
How to use Happy Scribe's VTT Generator?
Upload your video file. No size restriction and the first 10 minutes are free.
We auto transcribe your file. Your file will be converted from video to text in just a few minutes using our .vtt caption generator.
Proofread and Edit. The .vtt file generator has a very high accuracy rate, but no transcription is 100% perfect.
Click on export and choose the WebVTT subtitle format. You've successfully generated WebVTT captions for your video.
Why should I use a VTT file generator?
The main benefit of using a VTT caption generator is that it allows you to quickly generate a WebVTT file. WebVTT files are superior to SRT files in that they allow for greater flexibility in the look of your subtitles and captions. A VTT file includes robust formatting options including greater font styles, colors, text formatting and placement. It is also the preferred format for HTML5 video. Vimeo, Brightcove and YouTube are popular platforms that use WebVTT.
Frequent Questions
What is a VTT file?
WebVTT stands for Web Video Text Tracks. WebVTT is a captioning and subtitling format that is becoming increasingly popular since its invention in 2010. It was developed by the Web Hypertext Application Technology Working Group (WHATWG) to support text tracks in HTML5.
How is WebVTT different from SRT?
Both WebVTT and SRT are subtitle and caption formats. The .srt file extension was developed first, and the .vtt file extension was created later, broadly based on the SubRip format. Whilst they look similar and most online players can accept both formats there are some differences in their functionalities and how they are coded. For example the time code format is different between the two. The SRT format separates seconds from milliseconds with a comma. VTT uses a period instead. Overall, the SRT file format is a little more simplistic, whilst the VTT file format offers broader formatting capabilities.
What are the downsides of creating your own WebVTT files?
One of the major downfalls of creating your own WebVTT files is that you have to generate your own timecodes, whereas a vtt caption generator will create the timecodes for you. This makes DIY captioning very time-consuming compared to a VTT generator.
How long does it take to caption a video?
The amount of time it will take to caption a video depends on the length of your video, the quality of the video, and whether or not you caption the video yourself or use a vtt caption generator. If your video quality is good and you are experienced at converting audio to text, you can expect to take up to 10 times the length of a video to get captions. This means a 10 minute video can take close to 1 hour and 40 minutes to transcribe. Then if you create your own time codes, this may take longer. In contrast, a vtt file generator typically can convert your video to text with timecodes in half the time of your video file. This means that a 10 minute video can be captioned in around 5 minutes with a VTT Generator.
L'éditeur interactif
Decouvrez l'ultime outil de retranscription 👌
En synchronisant l'audio et le texte dans une interface claire et conviviale, la retranscription devient un plaisir.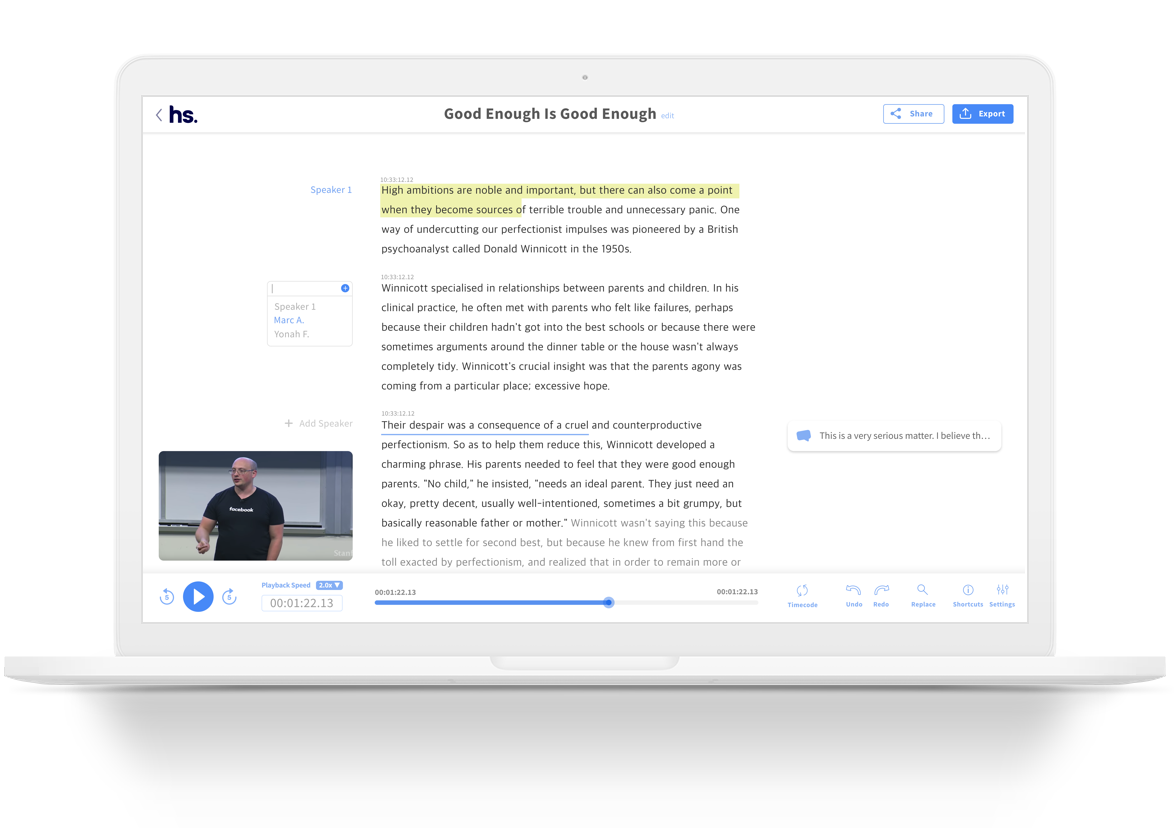 Identification des locuteurs
Nous reconnaissons quand le locuteur change. Vous avez juste à écrire leurs noms.
Surlignez et commentez
L'ajout de commentaires est utile lorsque vous collaborez avec des collègues.
Horodatages personnalisés
Ajoutez des horodatages où vous voulez dans le texte. (Peut être exporté)
Exporter vos transcriptions
Vous pouvez exporter vers Word, TXT, SRT, STL, HTML, AVID et Premiere Markers.
Partager publiquement
Vous pouvez partager une version "lecture seule" ou éditable de votre transcription.
Mode édition rapide
Corrigez vos transcriptions rapidement en voyant où nos machines se sont trompées.