Supported Languages
Below is the list of popular languages we support for subtitles.
See all languages ▸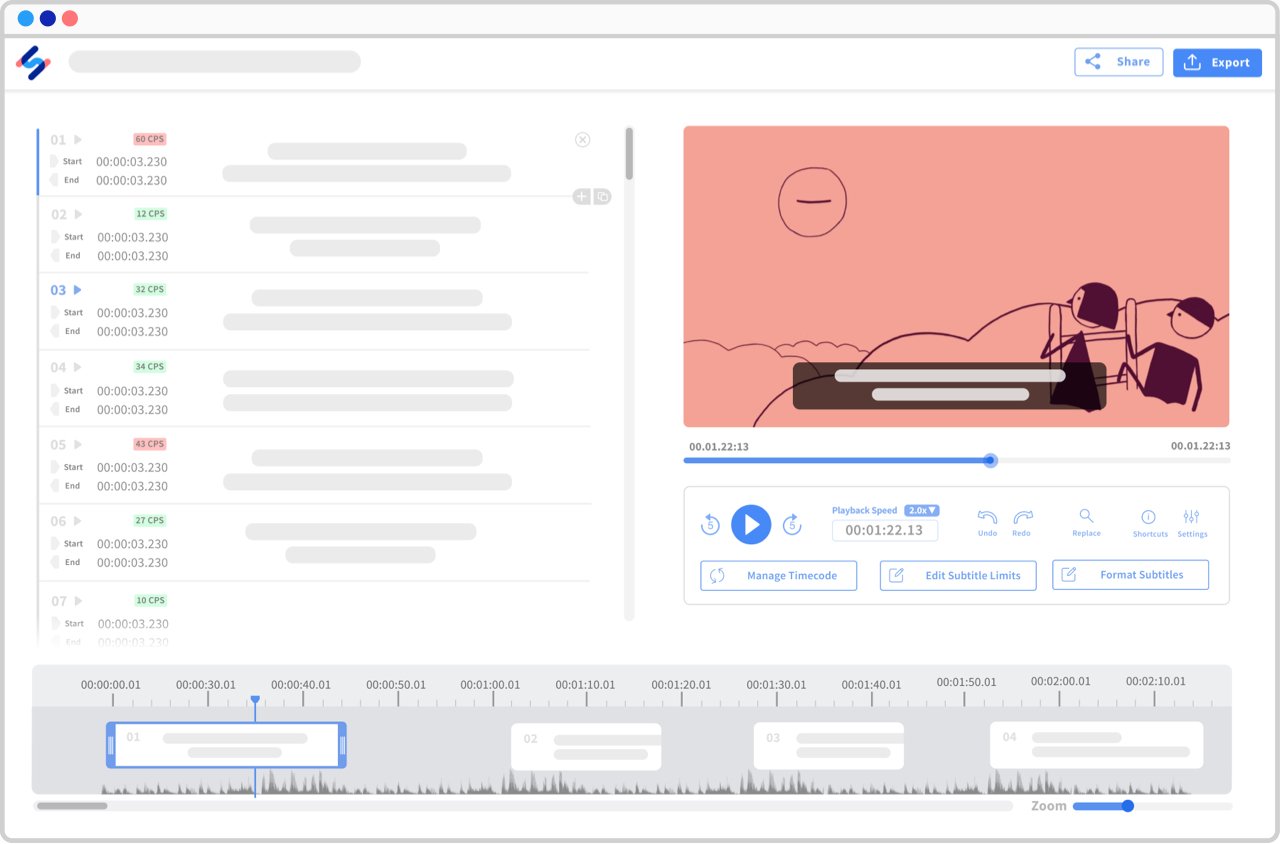 How to generate German subtitles?
1. Upload your video.

With our uploader, you can import your video from anywhere, whether it's on your laptop, Google Drive, Youtube, or Dropbox. The first 10 minutes are free and there's no file limit.

2. Select "German".

We support more than 120 languages, dialects, and accents.

3. Select "Machine generated".

Our automatic subtitle generator is lightning fast and 85% accurate.

4. Receive your subtitles.

Our generator will generate your subtitles in just a few minutes (depending on the length of your file).

5. Click on "Export" and choose your preferred file format.

You can export to SRT, VTT, and many more. It's that easy to generate your subtitles and closed captions in German.
Frequently Asked Questions
Can I translate my German subtitles into another language?

Of course! Once you have received your German subtitles, you can translate them into other languages. We currently support English, Spanish, French, German, Mandarin, Dutch, Portuguese, Russian, Italian, Japanese, and Polish for translation.

Which formats can I export the subtitles to?

You can export the subtitles to SRT, VTT, TXT and many more!

How can I make my subtitles more accurate?

Happy Scribe offers a human subtitling service to help you generate German subtitles with 99% accuracy for your videos.
Customer Reviews
Rated Excellent 4.8/5 based on 850+ reviews
Does exactly as described

Does exactly as described. The Arabic transcription is fairly accurate. Excellent product.

Mohammed Jassem - Trustpilot

Superb integration of text and audio editing

The integration of editing text and audio syncing is the best I have seen. It was a pleasure to work with Happy Scribe.

Joanne Luciano - Trustpilot

Easy to use! Would recommend

Easy to use! Fairly accurate-has made thesis work easier

M - Trustpilot

This is something that simply knocked me off my chair when I saw it. Then I pulled my credit card to buy.I have a lot of youtube videos that I need transcribing. Thanks for bringing this deal

KudaOnline - AppSumo
See all reviews ▸