About Happy Scribe
Our transcription services use the latest automatic transcription technology to convert video to text within a few minutes. We accept over 15 video formats including AVI, MOV, FLV, WMV, QT, and MP4. There is also no file size limit and we are able to transcribe over 119 languages and accents, including English, French, German and Spanish.
Transcribe my video
How It Works
Upload your video file. No size restriction and the first 10 minutes are free.
We auto transcribe your file. Your file will be converted from video speech to text in just a few minutes using our online video transcription tool.
Proofread and Edit. The video to text convertor has a very high accuracy rate, but no transcription is 100% perfect.
Click on export and choose your preferred subtitle format. You've successfully transcribed video to text.
Reasons to Transcribe Video to Text
Transcribing video to text is essential for a number of reasons. First, with a subtitle file you can easily generate captions and subtitles for your video. This increases the accessibility of your content and provides a way for the millions of individuals worldwide that are hearing impaired to engage with your video. Second, a video to text convertor can help boost SEO because Google can't index audio. Furthermore, the subtitles generated from the video to text convertor help increase increase engagement with your video because most people view videos on their mobiles without sound.
Frequent Questions
What does a video to text converter do?
A video to text converter converts the audio of video files into a text document. Video-editors, journalists, researchers, and students transcribe video files to text as part of their everyday tasks. Online video transcription tools uses artificial intelligence to transcribe video to text.
How long does it take to transcribe video to text?
The amount of time it will take to transcribe video to text depends on the length of your video, the quality of the video, and whether or not you transcribe the video yourself or use an online video transcription tool. If your video quality is good and you are experienced at transcribing text from video you can expect to take up to 10 times the length of a video. This means a 10 minute video can take close to 1 hour and 40 minutes to transcribe video to text. Then if you create your own time codes, this may take longer. In contrast, a video to text convertor can usually can transcribe video to text with timecodes in half the time of your video file. This means that you can transcribe a 10 minute video in around 5 minutes with an online video transcription tool.
What is the difference between an automated video to text converter and a human transcriber?
An automated video to text convertor can transcribe video and generate text files very quickly, in fact a 30 minute video can be converted in less than 5 minutes. Automated video to text convertors usually have a 90-97% accuracy depending on audio quality and technical jargon. They need high quality audio files to work well. A human transcriber takes substantially longer to transcribe video to text. Turnaround times range from 24 hours to several days. As a human is doing the work, the cost is also substantially higher. However, results are at least 99% accurate.
Which file types can be converted from video to text?
Each online video transcription tool provider accepts different file types. It is best that you ensure that the video to text converter that you plan to use accepts your file format, has no file size limit, and can transcribe your required language.
The Interactive Feature
Meet the ultimate transcription tool to edit text online. 👌
A text editor that synchronizes audio and text within a light and friendly interface, we've made transcription super easy.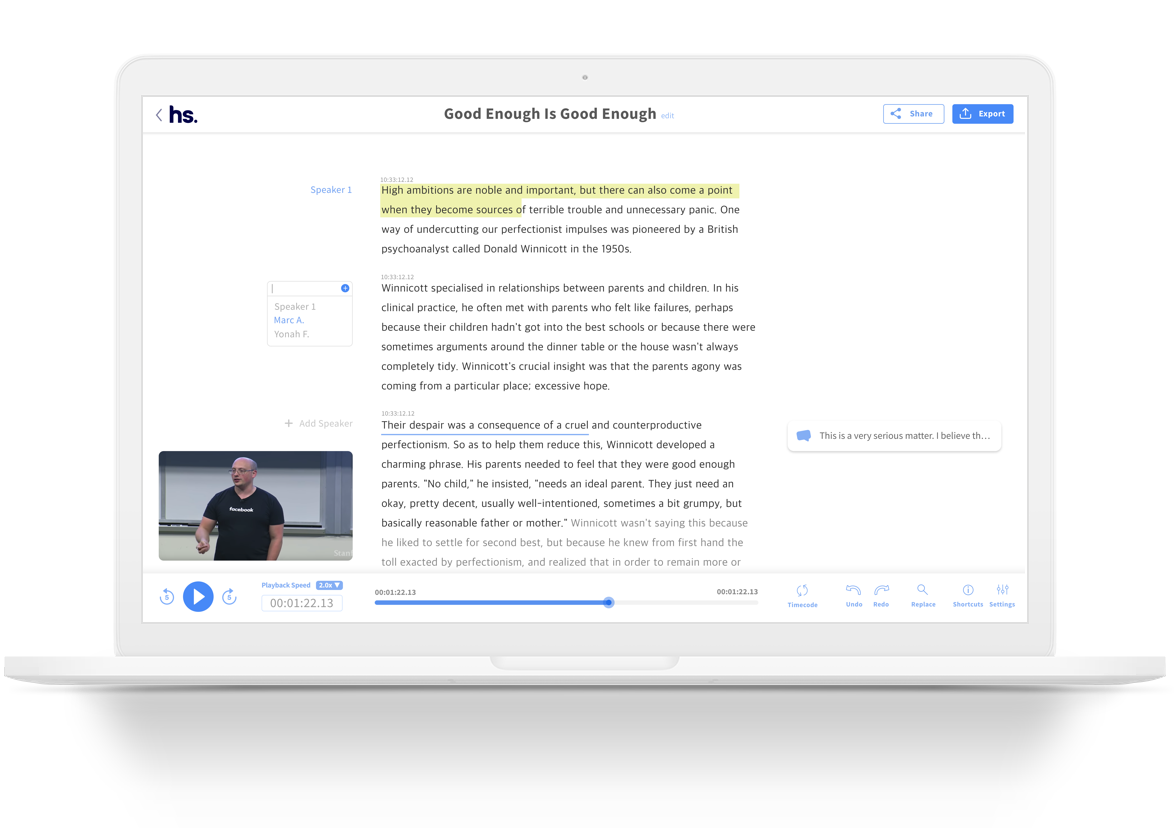 Speaker identification
We recognize when the speaker changes. You just have to write their name.
Highlight & comment
Adding comments is useful when collaborating with colleagues
Custom timestamps
Add timestamps where you want in the text. (Can be exported)
Export transcript
You can export in Word, PDF, TXT, SRT, VTT, STL, HTML, AVID and Premiere Markers.
Share publicly
On Happy Scribe, you can share a view-only or editable page of your transcript.
Proofreading Helper
Correct faster by looking only at the places where the algorithm struggled.