Supported Languages
Below is the list of popular languages we support for transcription and subtitles.
See all languages ▸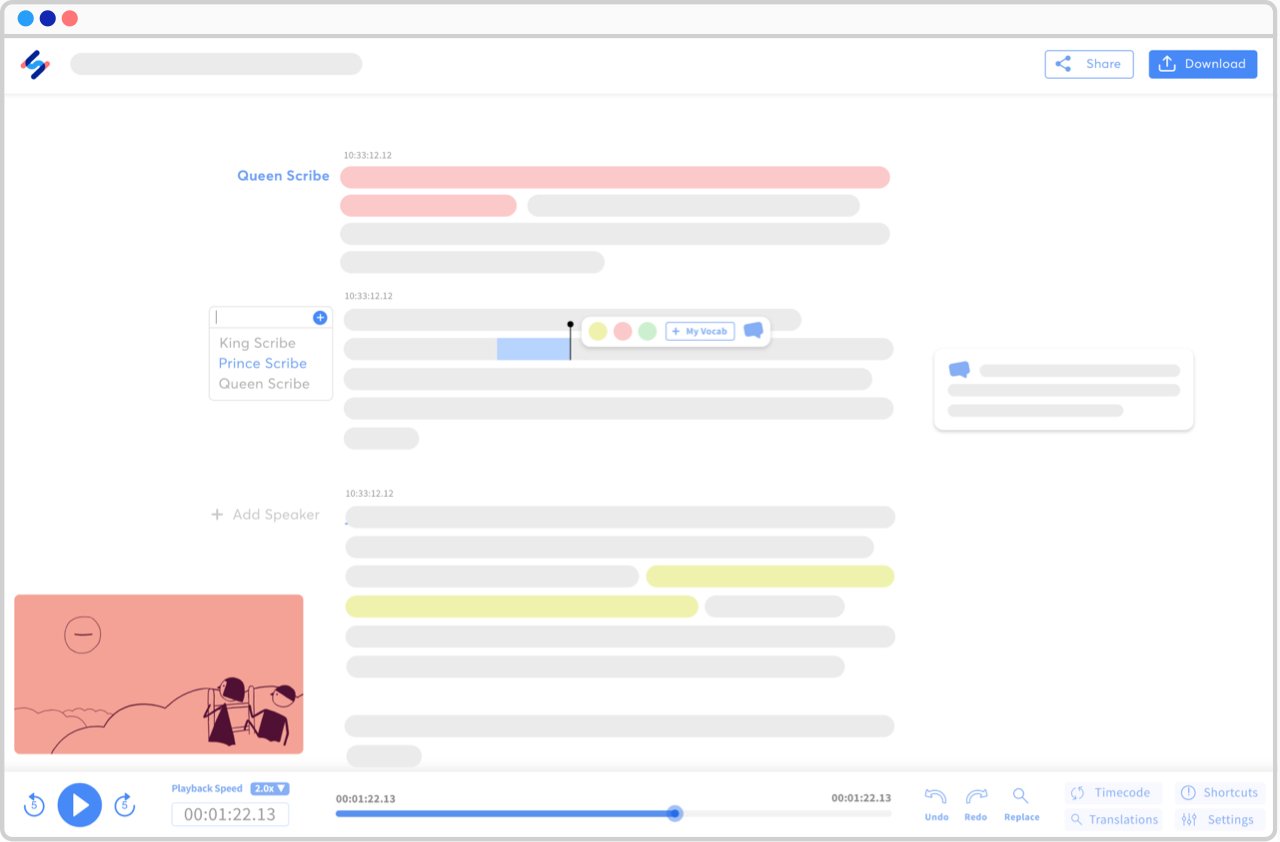 How to transcribe video to text?
1. Upload your video.

With our uploader, you can import your video from anywhere, whether it's on your laptop, Google Drive, Youtube, or Dropbox. The first 10 minutes are free and there's no file limit.

2. Select the language of the video.

We support more than 120 languages, dialects, and accents.

3. Choose "Machine generated" or "Human made".

Our automatic transcription software is lightning fast and 85% accurate. With our human service, your transcript will be transcribed and proofread by an expert and native speaker and delivered with 99% accuracy.

4. Receive your transcript.

Our automatic transcription software will convert your video to text in just a few minutes (depending on the length of your video). If you select our human service, your transcript will be ready within 24 hours.

5. Click on "Export" and choose your preferred file format.

You can export to TXT, DOCX, PDF, HTML, and many more. It's that easy to get your video transcribed!
Frequently Asked Questions
What is video to text transcription?

Video to text transcription is the process of converting a video into a text file. From journalists needing to select a quote for their article from a recent interview, to businessmen needing a written record of a meeting, to a student wanting study notes from a lecture, there are plenty of scenarios where having a text file is more convenient than a video recording.

What are the main ways to convert video to text?

There are three main methods to do so; doing it yourself (DIY), using an automatic transcription software, or using a human transcription service. Happy Scribe offers all three options. Manually converting your video to text is the free method, but also extremely time-consuming. Our automatic transcription software uses the state-of-the-art speech recognition technology to transcribe your video in a few minutes with 85% accuracy. Our human transcription service provides the highest accuracy rate and delivers in 24 hours.

How can I transcribe a video on Happy Scribe?

If you want to transcribe your video, you should use Happy Scribe's transcription services. With the automatic transcription software, the first 10 minutes are free and you can expect to receive the transcript in a few minutes. If you prefer to have a more professional transcript with 99% accuracy, you can choose our human service.

Can I transcribe a YouTube Video?

Yes, of course, you can! With Happy Scribe, you can easily copy and paste the video link that you want to transcribe into our editor and convert your YouTube Video to text instantly.
Customer Reviews
Rated Excellent 4.8/5 based on 850+ reviews
I don't understand this offer. Too much for too little. Bought 22h of happyscribe . Our team is HAPPY

mariohernandez - AppSumo

It gets better and better!

This has made our attempt to make our videos courses accessible so much easier! I was SO excited to see the new AI Summary/Blog feature. I used it instantly. This is GREAT value.

traviszoic - AppSumo

Great for Quick Transcripts

This is a great program for getting quick transcriptions for editing. Easy and intuitive dashboard/interface, and reasonably priced.

zjansen - Trustpilot

I like using Happy Scribe

I like using Happy Scribe , And I recommnd everybody If he want

David - Trustpilot
See all reviews ▸