How does it work?
Upload your files. Upload your files, your URLs, or pull from Youtube, Vimeo, Drive, and more.
We start working. Our professional subtitlers will create the subtitles for your videos.
Review & publish. After 24 hours, access your subtitles and publish!
Dedicated Subtitle Editor
Made for subtitlers, our interactive editors will ease the way you interact with your subtitles.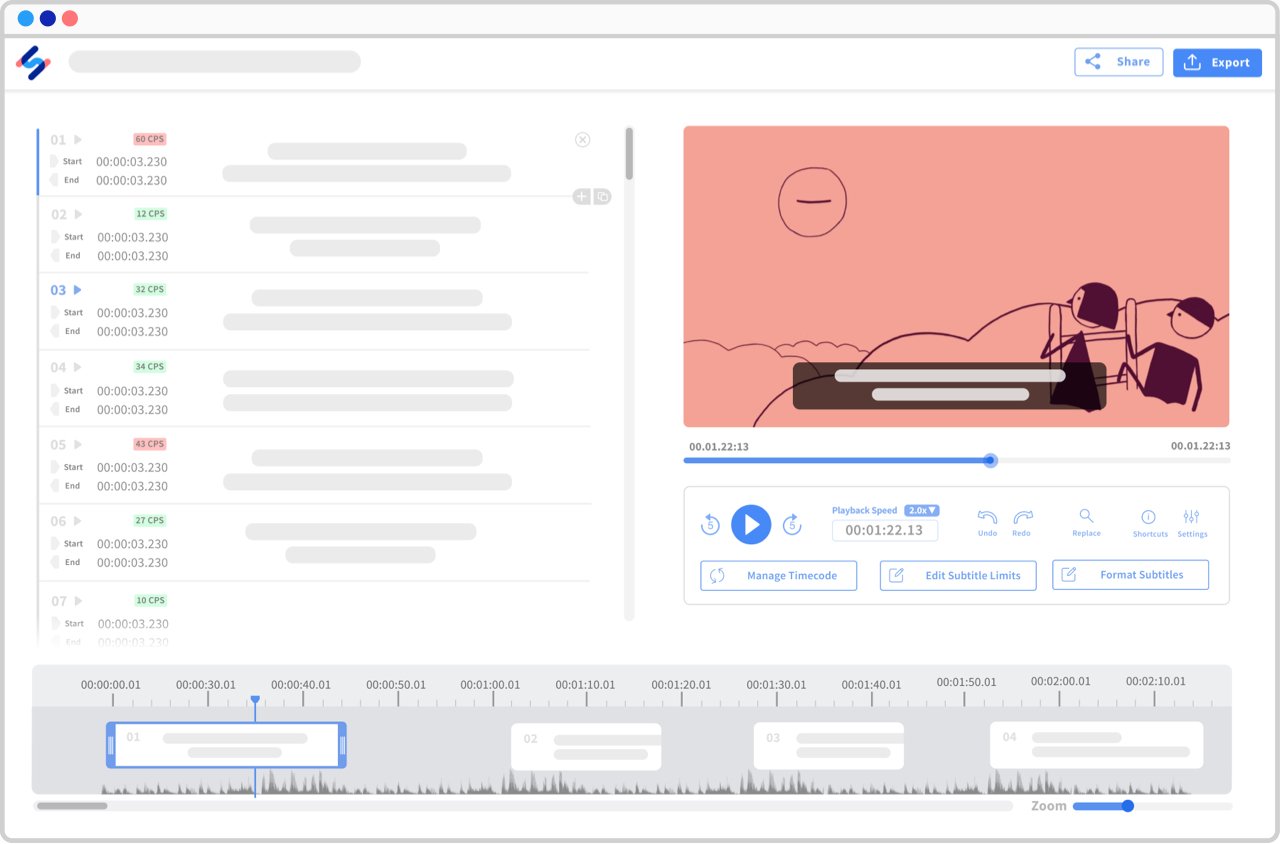 Format & Hardcode Subtitles

Formats your subtitles to make them match your brand. You can select multiple settings and get your video ready to publish. You can also directly download the video with burned-in subtitles.

Subtitle Customization

Decide how your subtitles are going to look with our line, CPL, and CPS management.

Automatic Translation

Translate your subtitles to many languages including English, Spanish, French, German, Mandarin, Dutch, Portuguese, Russian, Italian, Japanese, and Polish.
Features
No limits on uploads

Upload files of any size and length. Our subtitle editor supports them all.

CPS Management

CPS allows you to ensure that your viewers have time to read the subtitles.

Edit Starting Timecode

By providing the starting timestamp, you can decide when the subtitles start.

Multiple Export Formats

We provide exports in SRT, VTT, STL, Final Cut Pro, AVID, Premiere, and more.

Sharing Links

Share your subtitles in view-only or edit mode.

Visual Timeline & Soundwave

See subtitles in real time and check their position with the soundwave.

Workspaces for collaboration

Create spaces for you to share your files with the rest of your team.

APIs & Integrations

Seamlessly integrate with your favourite applications: Zapier, Youtube, and more.

Security & Confidentiality

All files are protected and remain private. Your subtitles are protected.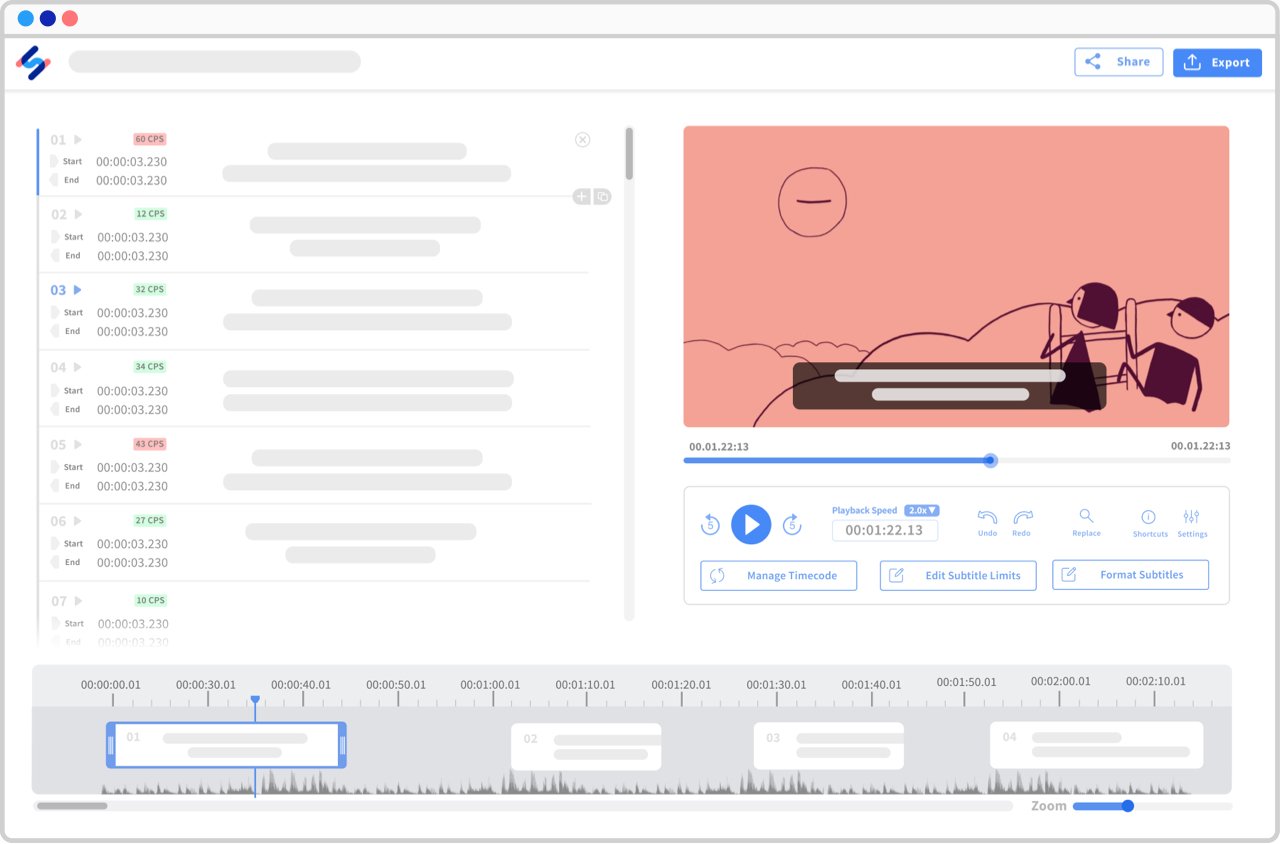 How does the human subtitling service work?
1. Upload your file.

With our uploader, you can import your file from anywhere, whether it's on your laptop, Google Drive, Youtube, or Dropbox.

2. Select the language of the video.

We currently support English, French, Spanish, German, Dutch, Portuguese, Italian, Polish, Catalan, Swedish, Russian, Japanese, Arabic, Romanian, Danish, Greek, Ukrainian, Serbian, Finnish, Hungarian, Czech, Korean, Hebrew, Hindi, Thai, Norwegian, Malay, Slovak, Croatian, Slovenian, Lithuanian, Estonian, Persian, Filipino, Gujarati, Indonesian, Khmer, Latvian, Nepali, Tamil, Turkish, Urdu, Vietnamese, Mongolian, Icelandic, Albanian, Bosnian, Bulgarian, Macedonian, Burmese, and Lao.

3. Select "Human made".

With our human service, your subtitles will be generated by an expert and delivered with 99% accuracy.

4. Get notified when your subtitles are ready.

Receive an email when the subtitles have been created within 24 hours (for 1-hour file).

5. Receive your subtitles.

Access your subtitles from the dashboard.

6. Click on "Export" and choose your preferred file format.

You can export to SRT, VTT, and many more. It's that easy to have your video professionally subtitled!
Supported Languages
Below is the list of popular languages we support for subtitles.
See all languages ▸
Frequently Asked Questions
What is the human subtitling service?

This is our premium offer for subtitling your files. Our handpicked human experts will provide you within 24 hours subtitles that are ready to be published.

How long does it take to add subtitles using the human service?

Depending on the language you chose, your file will have a different turnaround time. For French, English and Spanish is usually 24hrs, for all other languages it's between 24 and 48 hours. The time it takes to create all the subtitles and add them to your video also depends on the volume of work and availability of our collaborators, as well as the length and complexity of your file. You will always be updated on your dashboard and you will receive an email once your file is completed.

What is the cost of your professional subtitling service?

The price of the service depends on the language and length of your files. The price for professional English subtitling is $2.25 per minute of audio.
Customer Reviews
Rated Excellent 4.8/5 based on 850+ reviews
Very nice tool if you are a student…

Very nice tool if you are a student like me, who would like to use your time on everything else but the transcription

Debbie Justesen - Trustpilot

This site is so well designed

This site is so well designed. Very grateful that they've made their conversion tools available for everyone, there are lots of them out there, but I like this one because it works and it looks great doing it! :)

Juan Sebastian Vanegas - Trustpilot

Great tool, it really works perfectly

Louis Moolenaar - Trustpilot

Perfect, fast, easy, accurate

I dictate my articles and have Happy Scribe make them a reality. I also have it translate my Youtube videos and it's great. Not a single improvement requested from me.

MuseumTrade - AppSumo
See all reviews ▸