Supported Languages
Below is the list of popular languages we support for subtitles.
See all languages ▸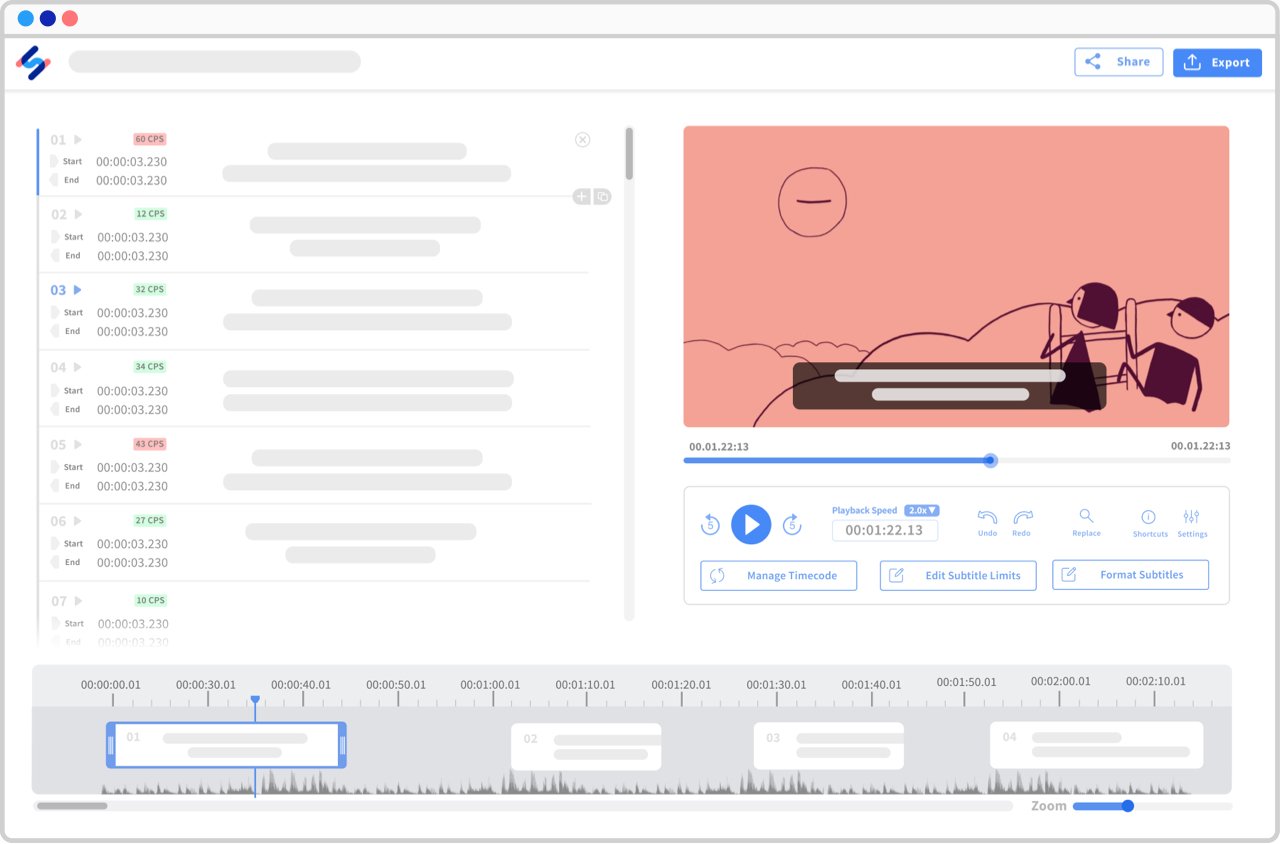 How to generate a VTT file?
1. Upload your video.

With our uploader, you can import your file from anywhere, whether it's on your laptop, Google Drive, Youtube, or Dropbox. The first 10 minutes are free and there's no file limit.

2. Select the language of the video.

We support more than 120 languages, dialects, and accents.

3. Select "Machine generated".

Our automatic subtitle generator is lightning fast and 85% accurate.

4. Receive your subtitles.

Our generator will generate your subtitles in just a few minutes (depending on the length of your file).

5. Click on "Export" and choose the VTT subtitle format.

You've successfully generated VTT subtitles for your video!
Frequently Asked Questions
What is a VTT file?

WebVTT stands for Web Video Text Tracks. VTT is a captioning and subtitling format that is becoming increasingly popular since its invention in 2010. It was developed by the Web Hypertext Application Technology Working Group (WHATWG) to support text tracks in HTML5.

How is VTT different from SRT?

VTT files are superior to SRT files in that they allow for greater flexibility in the look of your subtitles and captions. A VTT file includes robust formatting options including greater font styles, colors, text formatting, and placement. It is also the preferred format for HTML5 videos. Vimeo, Brightcove, and YouTube are popular platforms that use VTT.

How is a VTT subtitle generator beneficial for me?

Using a VTT subtitle generator is essential to the success of your video. A VTT file generator can help increase the viewership of your video content by providing subtitles that allow non-native language speakers, the Deaf, and the hard of hearing a way to engage with your content. A VTT Generator can also help comprehension of your video if you have speakers with thick accents or fast speech. A VTT subtitle generator can also help boost SEO because Google can't index audio.

What are the downsides of creating your VTT files manually?

One of the major downfalls of creating your VTT files is that you have to generate your timecodes, whereas a VTT caption generator will create the timecodes for you. This makes DIY captioning very time-consuming compared to a VTT generator.

How long does it take to generate a VTT File?

The amount of time it will take to caption a video depends on the length of your video, the quality of the video, and whether or not you caption the video yourself or use a VTT caption generator. If your video quality is good and you are experienced at converting audio to text, you can expect to take up to 10 times the length of a video to get captions. This means a 10-minute video can take close to 1 hour and 40 minutes to transcribe. Then if you create your time codes, this may take longer. In contrast, a VTT file generator typically can convert your video to text with timecodes in half the time of your video file. This means that a 10-minute video can be captioned in around 5 minutes with a VTT Generator.
Customer Reviews
Rated Excellent 4.8/5 based on 850+ reviews
So easy to use. Very accurate transcription. Highly pleased with my purchase.

Rhonda Burgess Howse - Trustpilot

Superb integration of text and audio editing

The integration of editing text and audio syncing is the best I have seen. It was a pleasure to work with Happy Scribe.

Joanne Luciano - Trustpilot

Reliable and quick with nice features…

Reliable and quick with nice features for exports and review. I was super pleased with the results and quality. It wasn't perfect, but I was dealing with recordings that weren't particularly high quality themselves.

Tomer Strolight - Trustpilot

Simple to use. Very little editing required.

Jenny Cook - Trustpilot
See all reviews ▸