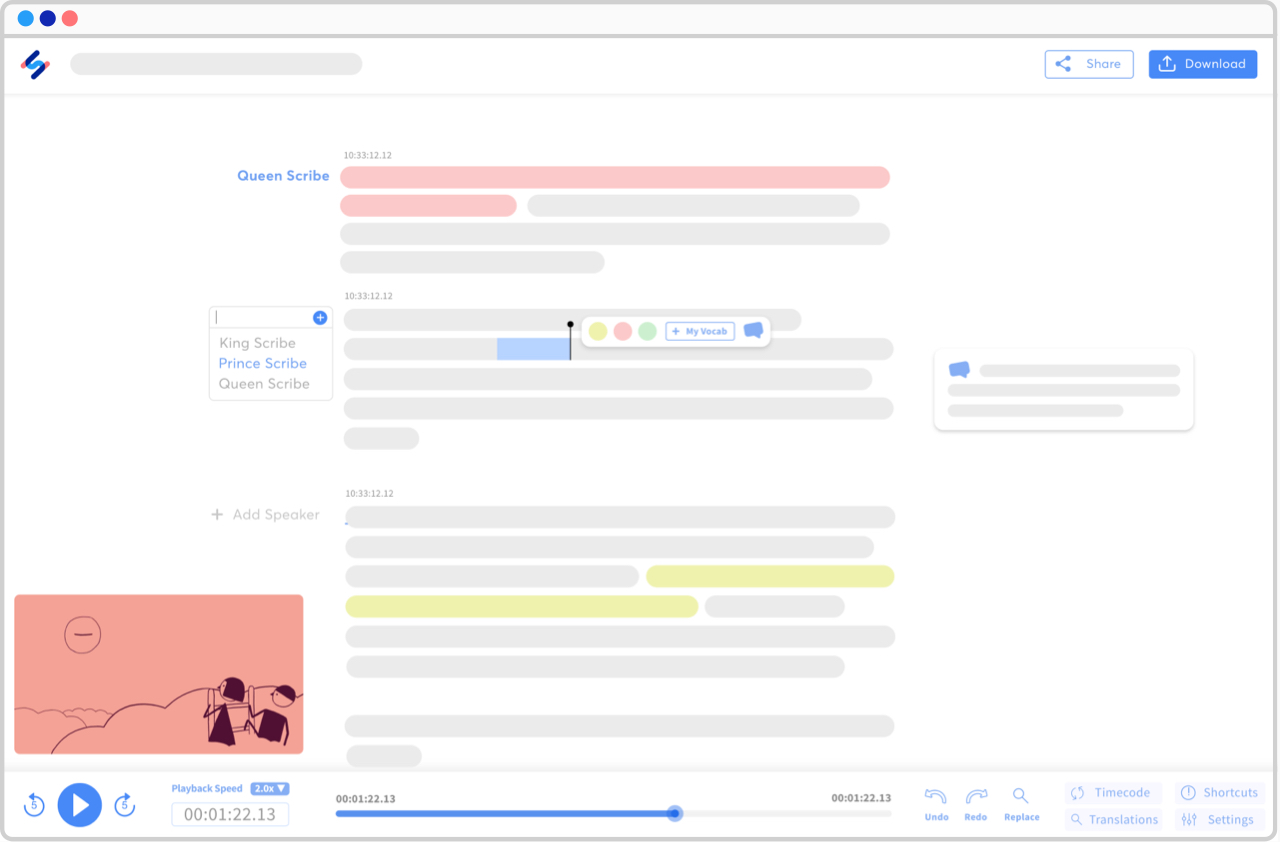 How to translate a video?
Upload your video.With our uploader, you can import your file from anywhere, whether it's on your laptop, Google Drive, Youtube, or Dropbox. The first 10 minutes are free and there's no file limit.
Select the language of the video.We support transcription in 120 languages, dialects, and accents.
Choose "Transcription" or "Subtitles".To translate your video, we first need to transcribe it. Depending on the format that you want to export, choose "Subtitles" if you plan to add the subtitles to your video later. Choose "Transcription" if you want to have a transcript instead.
Choose "Automatic" or "Professional".Our automatic transcription software is lightning fast and 85% accurate. With our professional service, your file will be transcribed and proofread by an expert and native speaker and delivered with 99% accuracy.
Receive your transcript/subtitles.Our automatic software will convert your file to text in just a few minutes (depending on the length of your file). If you choose our professional service, your transcript will be ready within 24 hours.
Select "Translation" and choose your language.Our video translator will generate the translation of your video within a minute.
Click on "Export" and choose your preferred file format.It's that easy to get translate your video to translated.
Frequently Asked Questions
How many languages can I translate my video to?

Happy Scribe supports automatic translation in more than 10 languages.

What languages does the video translator support?

Happy Scribe can translate videos in German, English, French, Italian, Japanese, Spanish, Dutch, Polish, Portuguese, Russian, and Mandarin.

How does video translation work?

To translate your video, we first need to extract the audio from them and convert them into text. Happy Scribe's transcription services transcribe video accurately and deliver it back to our clients in the shortest time possible. Once you receive the transcription, you can automatically translate it from your user dashboard.

Is it necessary to transcribe my video before translating it?

Yes, it is. Users can choose between automatic or professional transcription. The former is more accurate, and it's perfect if you want to save time proofreading the file. Automatic transcription is faster, however, you will need to proofread the transcript yourself afterward.

How long does it take to transcribe and translate video files?

With our professional transcription service, 1-hour files can be processed in less than 24 hours. If you choose automatic transcription, transcribing a 1-hour file can take minutes. Once you receive the transcripts, you can translate the text from your user dashboard. Translation will take some seconds, as everything is automatic.
Customer Reviews

Rated Excellent 4.8/5 based on 450+ reviews
Erfolgreiche Ausbildung in Amerika

Thanks to Happy Scribe, I can translate English videos and English language files into German. Happy Scribe is a tremendous help for me in learning. So I have already passed two online training courses in America very successfully.

Manuela Frenzel - Trustpilot

An absolutely fantastic tool

I am impressed by the transcription and translation. And it all happens with great speed. I have not tried yet the subtitles. I'm sour That this works just as well. It saves me a lot of time in my work.

Marie-Theres Tschiersch - Trustpilot

Great tool! Translation from speech to text is fast and accurate. It saves lots of my time in the edit video

Tanja - Trustpilot

Happyscribe listens but also acts! Awesome!

Hi, I love HappyScribe. Clear site. They listen to customers in Their underpromise and overdelivering. The next update is with translation! I love it! I also like the fact That You can bring in your own Vocabulary! That works fantastic!"

Frank van Zutphen - Trustpilot