About Happy Scribe
Happy Scribe uses the latest voice recognition technology to transcribe your video file to text within a few minutes. We accept over 15 video file formats including AVI, MOV, FLV, WMV, QT, and MP4. There is also no file size limit and we are able to transcribe over 119 languages and accents, including English, French, German and Spanish.
Start Free Trial
How to generate SRT file?
Upload your video file. No size restriction and the first 10 minutes are free.
We auto transcribe your file. Your file will be converted from video to text in just a few minutes using our srt subtitles creator.
Proofread and Edit. The srt file generator has a very high accuracy rate, but no transcription is 100% perfect.
Click on export and choose the SRT subtitle format. You've successfully generated SRT subtitles for your video.
Why are SRT subtitles necessary?
Using an SRT subtitles generator is essential to the success of your video. An SRT file generator can help increase viewership of your video content by providing subtitles which allow non-native language speakers, the Deaf, and the hard of hearing a way to engage with your content. An SRT Generator can also help comprehension of your video if you have speakers with thick accents or fast speech. An SRT subtitles creator can also help boost SEO because Google can't index audio.
Frequent Questions
What are srt subtitles?
An SRT subtitles file (also known as SubRip or an SRT file) is a plain-text file that makes it possible to add subtitles to a video after it has been produced. It does not include the video you are subtitling. However, it usually includes timecodes to ensure that your subtitles appear at the same time as the audio.
What other types of subtitle file formats are common?
SRT files are not the only type of subtitle file format, but it is one of the more widely supported types. WebVTT (.VTT) is another subtitle file formate. It is a new method of subtitling that enables you to edit the color and font of the subtitle text. Another subtitle format is EBU-STL (.STL). This format is used primarily with European broadcasters for subtitling TV programmes.
Is subtitling time-consuming?
Thanks to Happy Scribe's SRT subtitles creator, subtitling no longer has to be time consuming. Happy Scribe's intelligent platform uses the latest technology to transform the audio in your video into accurate subtitles in just a few minutes. With this SRT file in hand you can quickly add upload your video with subtitles to numerous social media platforms.
How do I generate subtitles for YouTube ?
The first step is to use an SRT subtitles creator like Happy Scribe to convert the audio in your video to text and export the transcript as an SRT file. Then from your YouTube post upload your video and SRT file.
The Interactive Feature
Meet the ultimate transcription tool to edit text online. 👌
A text editor that synchronizes audio and text within a light and friendly interface, we've made transcription super easy.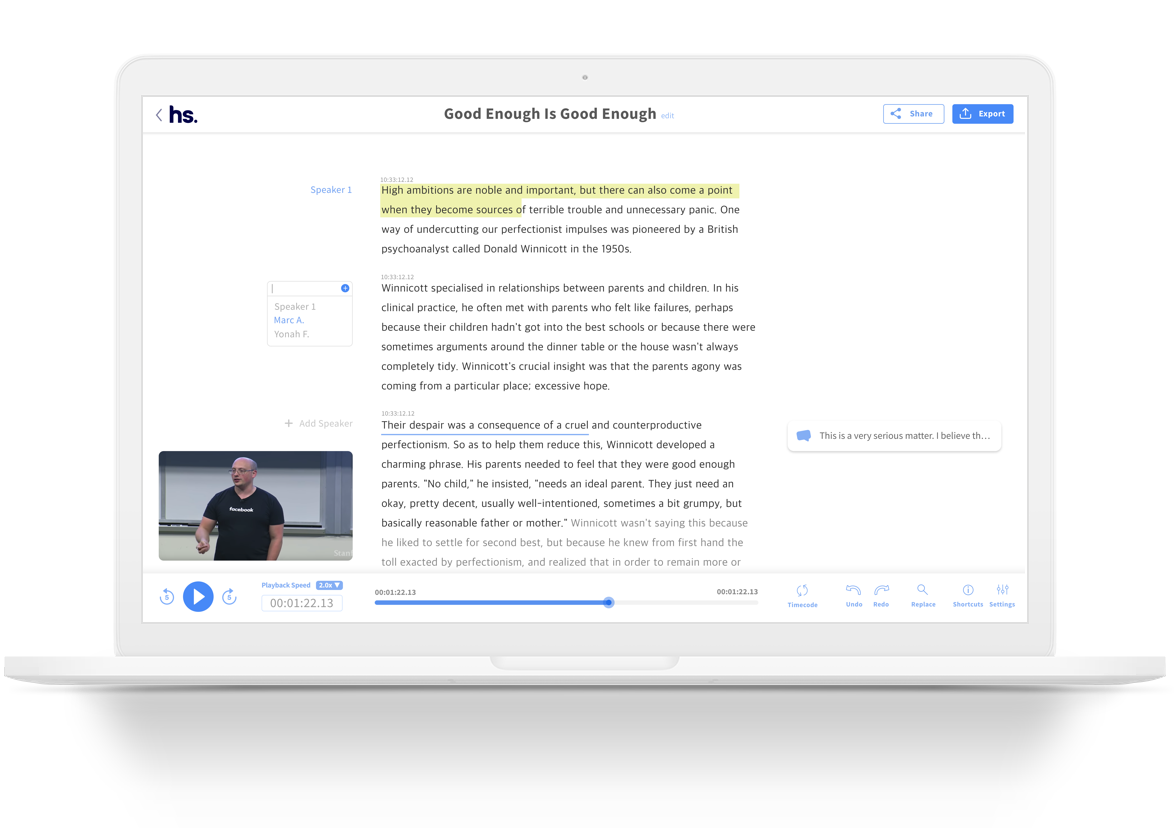 Speaker identification
We recognize when the speaker changes. You just have to write their name.
Highlight & comment
Adding comments is useful when collaborating with colleagues
Custom timestamps
Add timestamps where you want in the text. (Can be exported)
Export transcript
You can export in Word, PDF, TXT, SRT, VTT, STL, HTML, AVID and Premiere Markers.
Share publicly
On Happy Scribe, you can share a view-only or editable page of your transcript.
Proofreading Helper
Correct faster by looking only at the places where the algorithm struggled.