How does it work?
Upload your files. Upload your files, your URLs, or pull from Youtube, Vimeo, Drive, and more.
We start working. Our subtitle generator will create subtitles for your videos.
Review & publish. After a few minutes, access your subtitles and publish!
Dedicated Subtitle Editor
Made for subtitlers, our interactive editors will ease the way you interact with your subtitles.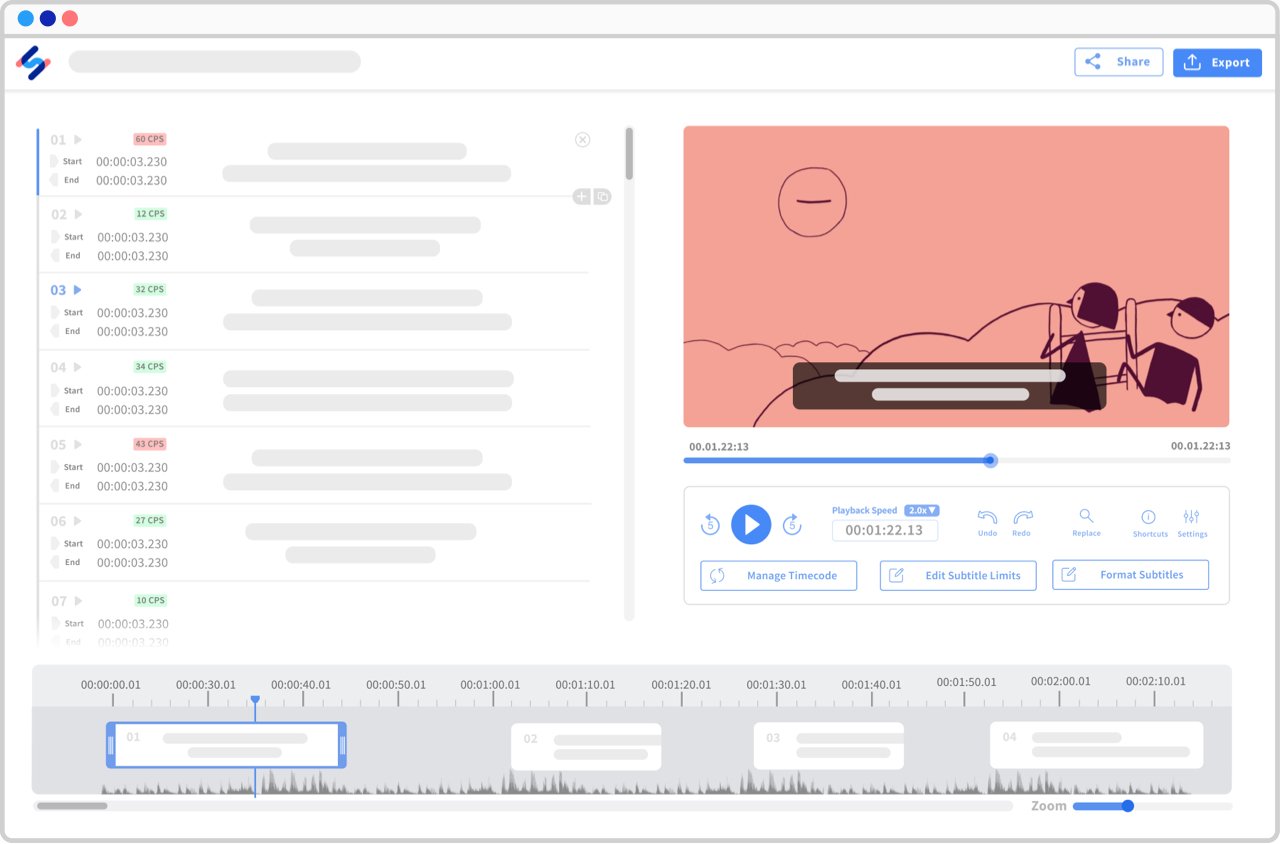 Format & Hardcode Subtitles

Formats your subtitles to make them match your brand. You can select multiple settings and get your video ready to publish. You can also directly download the video with burned-in subtitles.

Subtitle Customization

Decide how your subtitles are going to look with our line, CPL, and CPS management.

Automatic Translation

Translate your subtitles to many languages including English, Spanish, French, German, Mandarin, Dutch, Portuguese, Russian, Italian, Japanese, and Polish.
Features
No limits on uploads

Upload files of any size and length. Our subtitle editor supports them all.

CPS Management

CPS allows you to ensure that your viewers have time to read the subtitles.

Edit Starting Timecode

By providing the starting timestamp, you can decide when the subtitles start.

Multiple Export Formats

We provide exports in SRT, VTT, STL, Final Cut Pro, AVID, Premiere, and more.

Sharing Links

Share your subtitles in view-only or edit mode.

Visual Timeline & Soundwave

See subtitles in real time and check their position with the soundwave.

Workspaces for collaboration

Create spaces for you to share your files with the rest of your team.

APIs & Integrations

Seamlessly integrate with your favourite applications: Zapier, Youtube, and more.

Security & Confidentiality

All files are protected and remain private. Your subtitles are protected.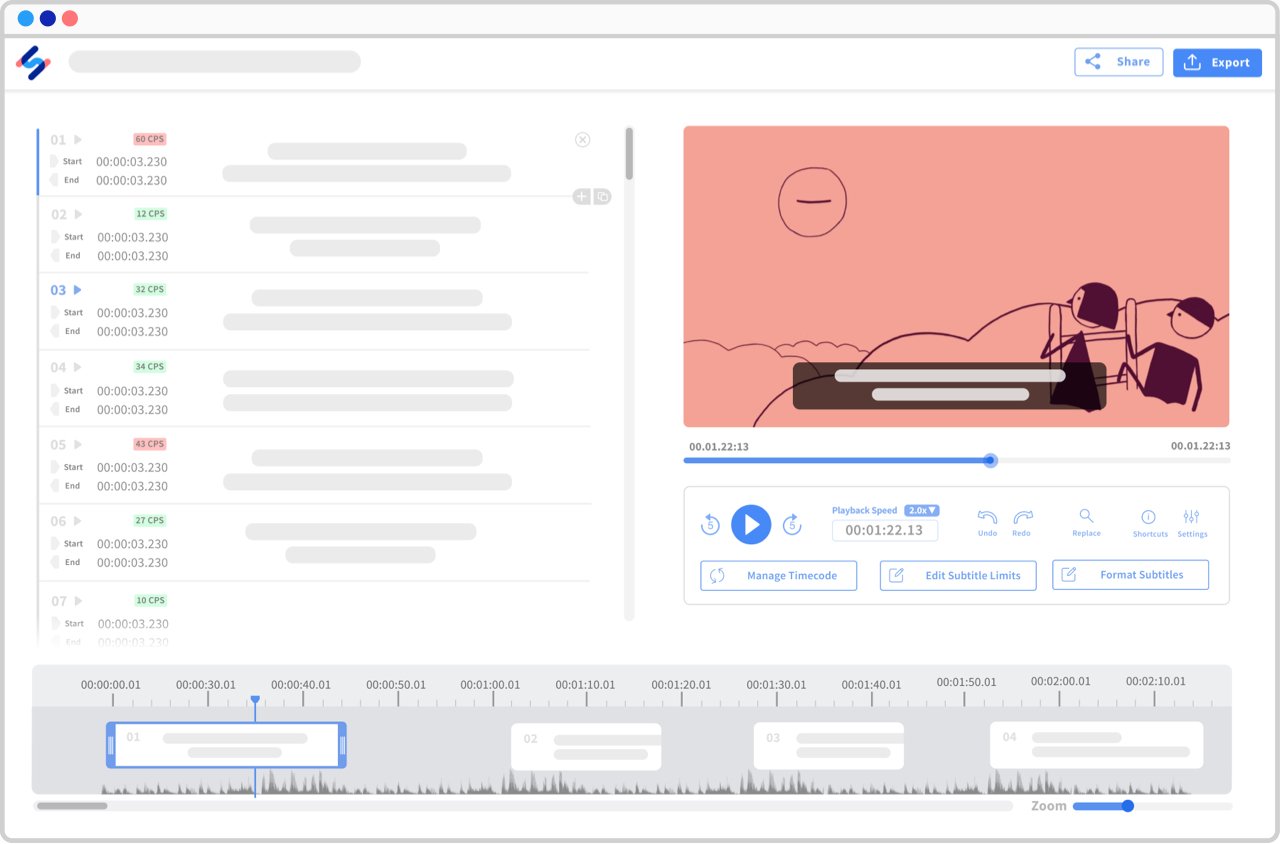 How to generate subtitles?
1. Upload your video.

With our uploader, you can import your file from anywhere, whether it's on your laptop, Google Drive, Youtube, or Dropbox. The first 10 minutes are free and there's no file limit.

2. Select the language of the video.

We support more than 120 languages, dialects, and accents.

3. Select "Machine generated".

Our automatic subtitle generator is lightning fast and 85% accurate.

4. Receive your subtitles.

Our generator will generate your subtitles in just a few minutes (depending on the length of your file).

5. Click on "Export" and choose your preferred subtitle format.

You've successfully generated subtitles for your video!
Supported Languages
Below is the list of popular languages we support for subtitles.
See all languages ▸
Frequently Asked Questions
What are subtitles?

Subtitles are text originating from a dialog or commentary transcript or screenplay in movies, TV shows, video games, and the like, generally shown at the bottom of the screen, but may also be at the top of the screen if the text at the bottom of the screen is already present.

How can I generate subtitles for my videos?

By using Happy Scribe's automatic subtitle generator you will be able to generate subtitles in 120+ languages. Just upload or add a link to your video and our subtitling software will extract the speech from your video file and convert it into subtitles with 85% accuracy.
Customer Reviews
Rated Excellent 4.8/5 based on 850+ reviews
I love this page. It simplifies my workflow a lot.

Ángela Andrea Castro Jiménez - Trustpilot

The tool has a mind blowing accuracy. Couldn't be happier.

Ignacio - Trustpilot

Great & Super Easy to Use

Super happy with this purchase. Editing subtitles for my YoutTube channel is now very easy. Love it and recommend it

vsn - AppSumo

No brainer - Happy Scribe for the win!

I just used Happy Scribe for the first time and it was so easy and intuitive! I couldn't believe how accurate it was - I hardly needed to make any changes and was in and out super fast. Extremely impressed and highly recommended.

Nadine Prada - Trustpilot
See all reviews ▸