About Happy Scribe
Happy Scribe uses the latest voice to text transcription technology to convert voice to text within a few minutes. We accept over 30 audio file formats including AIFF, M4A, MP3, MP4, WAV, and WMA. There is also no file size limit and we are able to transcribe over 119 languages and accents, including English,French, German and Spanish.
Start Free Trial
How to convert voice to text?
Upload audio/video files. No size restriction and the first 10 minutes are free.
Our online voice to text software will convert your audio to text in just a few minutes.
Proofread and edit. The voice to text software has a very high accuracy rate, but no automatic voice transcription tool is 100% perfect.
Click on export and choose your preferred file format - TXT, DOCX, PDF, and HTML. It's that easy to use voice to text software.
Why should you use voice to text software?
There are numerous advantages to using voice to text software. When you translate audio to text you make your content more accessible for the Deaf, hard of hearing, and non-native language speakers. Voice to text transcription can increase SEO because Google can't index audio. Additionally, converting audio to text makes it easy to create blog content making the best use of your time and resources. Converting audio to text can also help you get more social media shares. Audio files are not compatible with social media snippets, but text quotes are. Simply put, converting audio to text can help increase viewership and result in more traffic to your content.
Frequent Questions
What are the main ways to convert voice to text?
There are three main methods for converting voice to text; manually doing it yourself, using an automatic voice transcription service provider, or outsourcing a human manually do it for you (think Upwork). Manually converting audio to text is the cheapest method, but also extremely time-consuming. Human transcribing provided the highest accuracy rate, but is very expensive and has a slow turnaround time. For the quickest turnaround at an economical cost, then an automatic voice transcription is the way to go.
How long does it take to convert voice to text?
The amount of time it will take to voice to text depends on the length of your audio file, the quality of the audio and whether or not you transcribe the audio yourself or use voice to text software. If your audio quality is good and you are experienced at transcribing voice to text you can expect to take 4 hours to convert 1 hour of audio. If you have poor audio or are a novice at transcribing voice to text this may take longer. In contrast, automatic voice transcription can convert voice to text in a few minutes.
How accurate is automatic voice transcription?
Ongoing technological advances continue to improve the accuracy rate of automatic voice transcription. Depending on the audio quality, speaker accents, and technical jargon, voice to text software can achieve up to 90% accuracy.
How can I improve the accuracy of my voice to text transcription?
To get the highest possible accuracy rate for your voice to text transcription you need to upload a high quality audio file. To obtain a high quality audio file, it is advised that you maintain a consistent recording environment, avoid background noise, use quality microphones, and ensure that speakers talk directly into the microphone and avoid talking over one another.
The Interactive Feature
Meet the ultimate transcription tool to edit text online. 👌
A text editor that synchronizes audio and text within a light and friendly interface, we've made transcription super easy.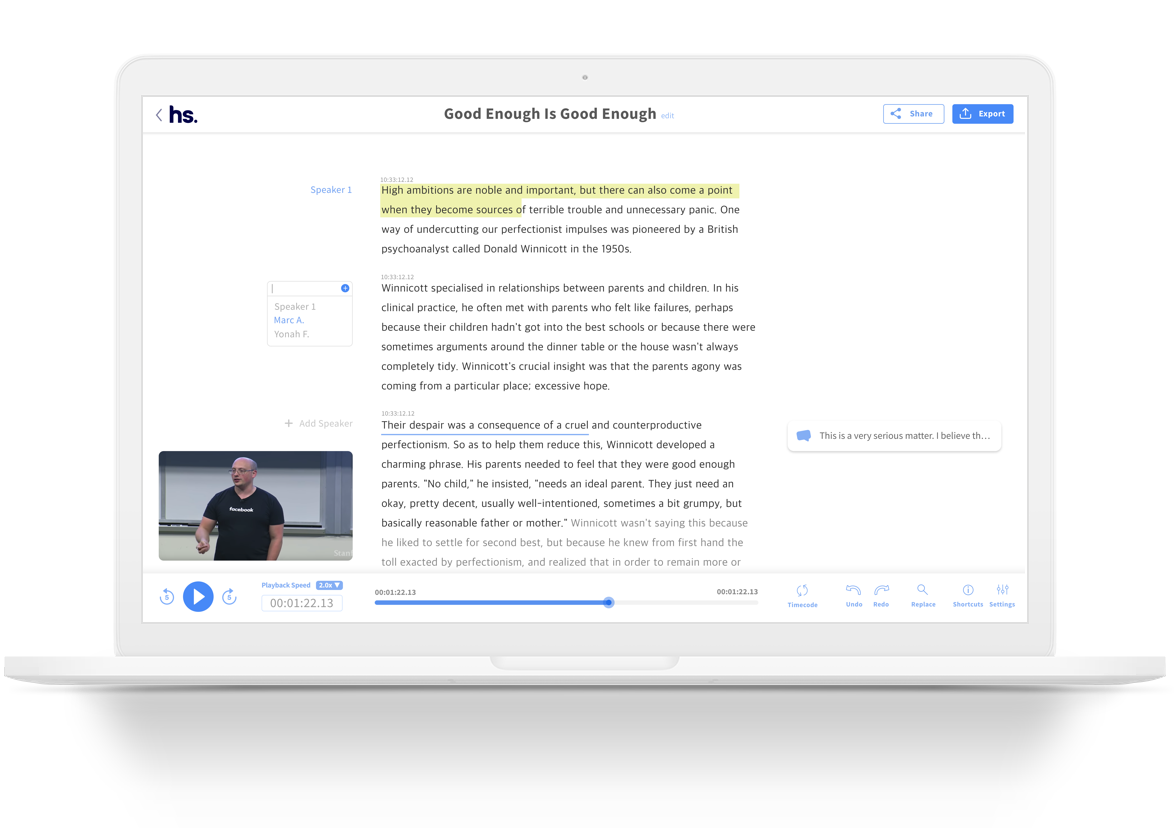 Speaker identification
We recognize when the speaker changes. You just have to write their name.
Highlight & comment
Adding comments is useful when collaborating with colleagues
Custom timestamps
Add timestamps where you want in the text. (Can be exported)
Export transcript
You can export in Word, PDF, TXT, SRT, VTT, STL, HTML, AVID and Premiere Markers.
Share publicly
On Happy Scribe, you can share a view-only or editable page of your transcript.
Proofreading Helper
Correct faster by looking only at the places where the algorithm struggled.