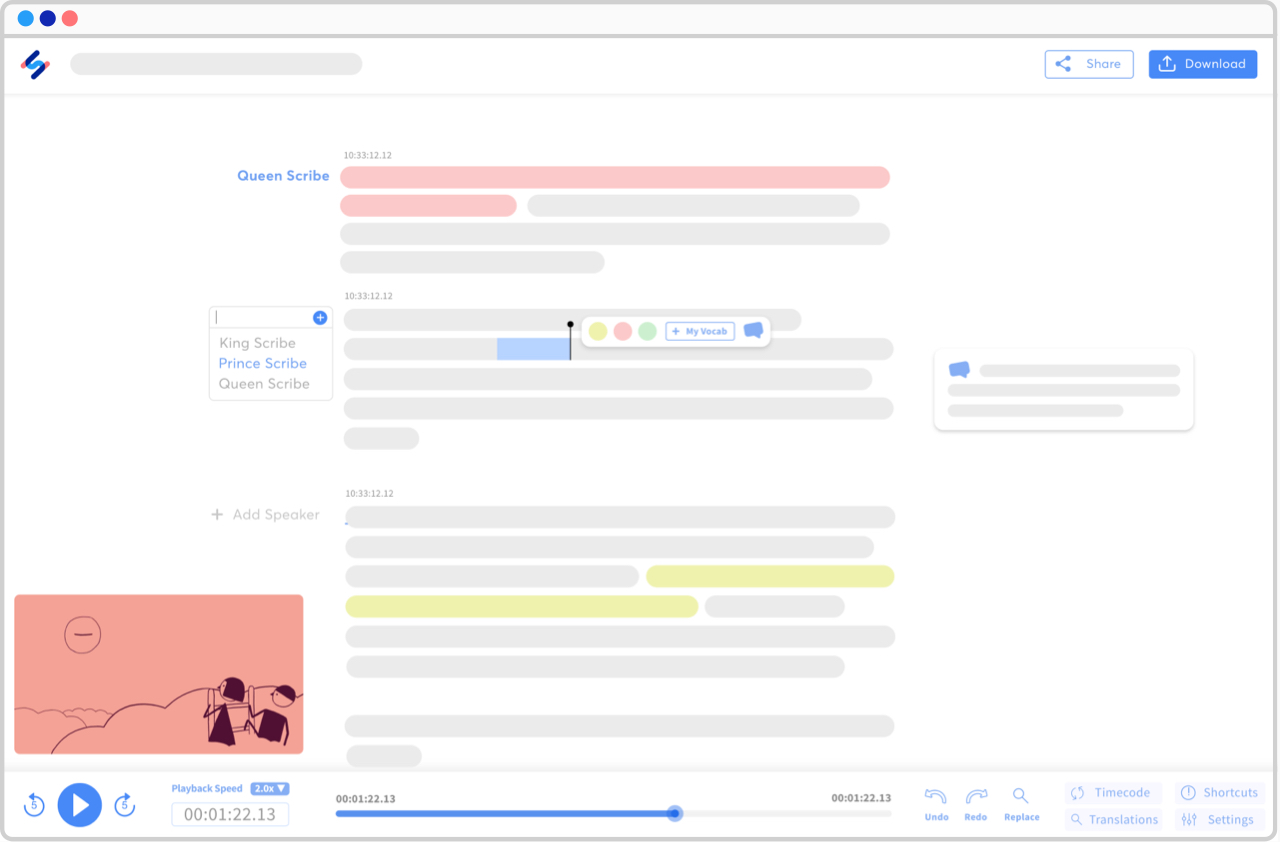 How to convert voice to text?
Upload your voice file. With our uploader, you can import your file from anywhere, whether it's on your laptop, Google Drive, Youtube, or Dropbox. The first 10 minutes are free and there's no file limit.
Select the language of your voice file. We support more than 120 languages, dialects, and accents.
Choose "Machine generated" or "Human made". Our automatic transcription software is lightning fast and 85% accurate. With our human service, your transcript will be transcribed and proofread by an expert and native speaker and delivered with 99% accuracy.
Receive your transcript. Our automatic transcription software will convert your voice to text in just a few minutes (depending on the length of your file). If you select our human service, your transcript will be ready within 24 hours.
Click on "Export" and choose your preferred file format. You can export to TXT, DOCX, PDF, HTML, and many more. It's that easy to get your voice transcribed!
Frequently Asked Questions
What is voice to text transcription?

Voice to text transcription is the process of converting a voice file into a text file. From journalists needing to select a quote for their article from a recent interview, to businessmen needing a written record of a meeting, to a student wanting study notes from a lecture, there are plenty of scenarios where having a text file is more convenient than an audio recording. Transcription is also useful for podcasts, phone calls, dictation, etc... This is where transcription services can help.

How long does it take to convert voice to text?

The amount of time it will take to voice to text depends on the length of your audio file, the quality of the audio, and whether or not you transcribe the audio yourself or use voice to text software. If your audio quality is good and you are experienced at transcribing voice to text you can expect to take 4 hours to convert 1 hour of audio. If you have poor audio or are a novice at transcribing voice to text this may take longer. In contrast, automatic voice transcription can convert voice to text in a few minutes. Furthermore, a professional transcriber from Happy Scribe can provide you with a proofread & high-quality transcript within 24 hours.

How accurate is your automatic transcription software?

Ongoing technological advances continue to improve the accuracy rate of automatic transcription. Depending on the audio quality, speaker accents, and technical jargon, our automatic transcription software can achieve up to 85% accuracy.

How can I improve the accuracy of my voice to text transcription?

To get the highest possible accuracy rate for your voice to text transcription you need to upload a high-quality audio file. To obtain a high-quality audio file, it is advised that you maintain a consistent recording environment, avoid background noise, use quality microphones, and ensure that speakers talk directly into the microphone and avoid talking over one another.
Customer Reviews

Rated Excellent 4.8/5 based on 450+ reviews
This website is perfect for transcribing Any Video fast and with ease. To make it even better, it HAS Numerous Useful features like translation, etc. I highly recommend it.

Yahia Mostafa - Trustpilot

Perfect Video to Text transcription

Perfect Video to Text transcription? It saved me hours of writing!

Thomas Wing - Trustpilot

Perfect Video to Text transcription

Perfect Video to Text transcription? It saved me hours of writing!

Thomas Wing - Trustpilot

Very happy with the product. Needed a paper pulled from a video zoom. Happy Scribe was easy to use and DID a great job!

Clem Huffman - Trustpilot