Supported Languages
Below is the list of popular languages we support for subtitles.
See all languages ▸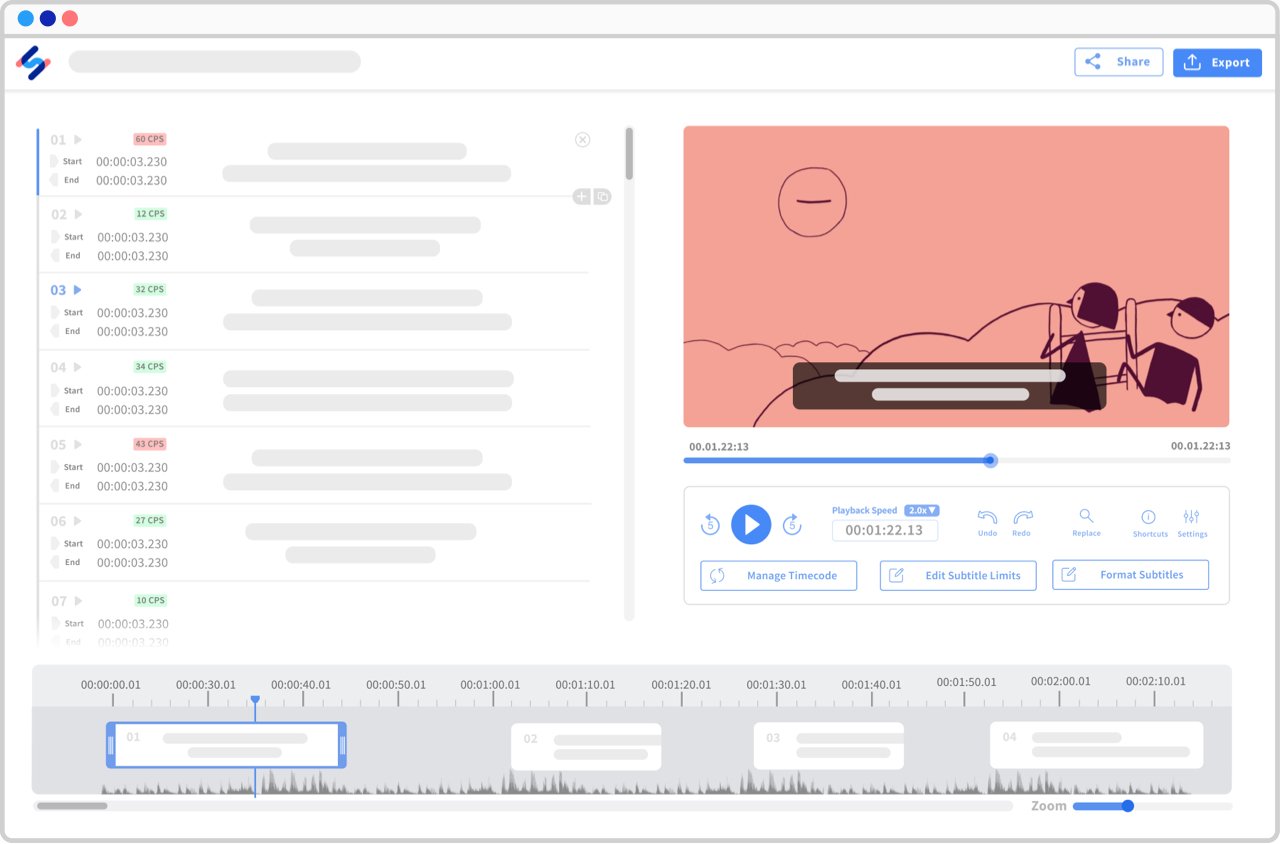 How to generate captions?
1. Upload your video.

With our uploader, you can import your file from anywhere, whether it's on your laptop, Google Drive, Youtube, or Dropbox. The first 10 minutes are free and there's no file limit.

2. Select the language of the video.

We support more than 120 languages, dialects, and accents.

3. Select "Machine generated".

Our automatic subtitle generator is lightning fast and 85% accurate.

4. Receive your subtitles.

Our generator will generate your subtitles in just a few minutes (depending on the length of your file).

5. Click on "Export" and choose your preferred caption format.

You've successfully generated captions for your video!
Frequently Asked Questions
What are captions?

Captions are the words visible on a movie, television, or computer monitor showing what is being said in a video. Closed captions are predominately designed for people who are deaf or hard of hearing and frequently include non-verbal sounds such as laughter, applause, or a door slamming.

Why do I need automatic captioning?

Automatic captioning for video is essential for many reasons. A closed captions generator assists with accessibility and provides a way for the millions of individuals worldwide that are hearing impaired to engage with your content. A video caption generator app can help boost SEO because Google can't index audio. Auto captions for video increase engagement because most people view videos on their mobiles without sound.

What is the difference between subtitles and closed captions?

Essentially, subtitles assume an audience can hear the audio but need the dialogue provided in text form as well. Meanwhile, closed captioning assumes an audience cannot hear the audio and needs a text description of what they would otherwise be hearing.

How do I generate captions for videos on social media?

The first step is to use a video caption generator app like Happy Scribe to convert the audio in your video to text and export the transcript as an SRT file. Then from your social media site, upload your video and SRT file.

What are the most used caption formats?

The most popular (and widely accepted) caption formats are SRT and VTT. Accepted closed caption file formats vary depending on which site you're using to host your videos. Vimeo lists VTT as its preferred format but also accepts SRT files. YouTube and Facebook also accept SRT formats.
Customer Reviews
Rated Excellent 4.8/5 based on 850+ reviews
This was the easiest, cleanest, and most accurate transcription site I've used...and I have tried A LOT!

Leah Byrnes - Trustpilot

Happy Scribe is exactly what I was looking for

Happy Scribe is exactly what I was looking for. We regularly tape our meetings in my business; we used to just keep the audio files for storage, now we can have them transcribed at a very attractive price.

Stefano - Trustpilot

Works excellent in the German language

Works excellent in the German language. When there is an issue, the customer service is extremely helpful, working with you to solve the problem. Next time, I will use Happy Scribe again!

Edna M. - Trustpilot

Does exactly as described

Does exactly as described. The Arabic transcription is fairly accurate. Excellent product.

Mohammed Jassem - Trustpilot
See all reviews ▸