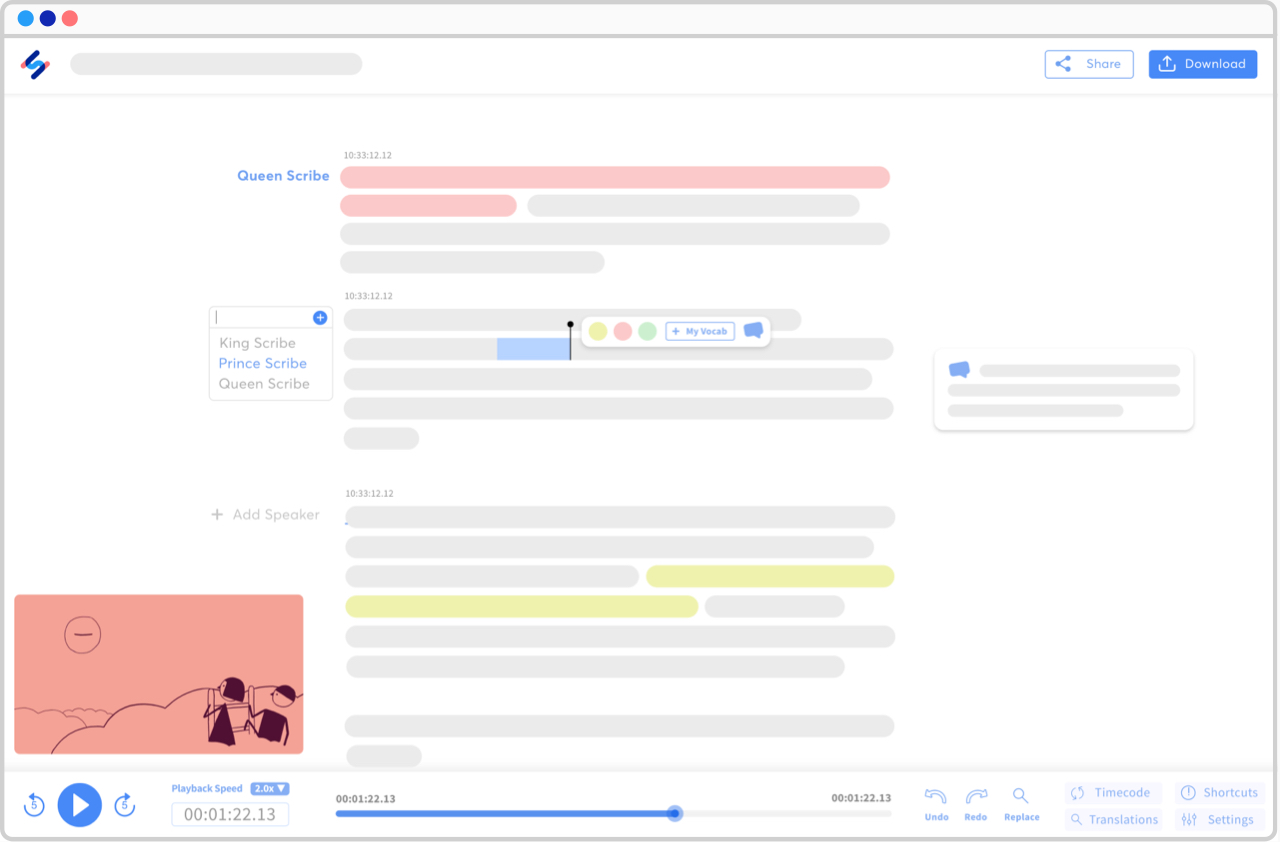 How to transcribe a Livestorm meeting?
Download the Livestorm recording.You can access your recordings from the "Recording" tab in your dashboard.
Start the Livestorm event.The recording will start automatically once you start the event.
Upload the recording to Happy Scribe.Select the recording from where you just downloaded it and upload it to Happy Scribe.
Select the language of your Livestorm meeting.We support more than 120 languages, dialects, and accents.
Choose "Automatic" or "Professional".Our automatic transcription software is lightning fast and 85% accurate. With our professional service, your transcript will be transcribed and proofread by an expert and native speaker and delivered with 99% accuracy.
Receive your transcript.Our automatic transcription software can transcribe your Livestorm meeting in just a few minutes (depending on the length of your file). If you select our professional service, your transcript will be ready within 24 hours.
Click on "Export" and choose your preferred file format.You can export to TXT, DOCX, PDF, HTML, and many more. It's that easy to have your Livestorm meetings transcribed!
Frequently Asked Questions
What is Livestorm?

Livestorm is a browser-based online web conferencing software used to share real-time live streams. It can be used to power remote live meetings, product demos, sales webinars, online lessons, onboarding sessions, and more.

Can I transcribe a Livestorm meeting?

Yes, you can! With Happy Scribe, you can extract the speech from your Livestorm meetings or conferences and convert them into text.

Do you offer a professional transcription service for Livestorm meetings?

At Happy Scribe, you can choose between professional or automatic transcription. Our professional transcription service will get your Livestorm meeting recording transcribed in less than 24 hours with 99% accuracy. If you need to get your files faster, you can always rely in our automatic transcription software.
Customer Reviews

Rated Excellent 4.8/5 based on 450+ reviews
I really enjoyed my experience

I really enjoyed my experience. It Did not take long to b Given the feedback, and the possibility of interaction and corrections Were responsive. I do recommend the work. Thank you.

Jose Eudes R. dos Santos - Trustpilot

Happy Scribe saves me so much time

Happy Scribe saves me so much time. As a journalist, my dream Was to-have an intern to transcribe my interviews to me - my goal Happy Scribe Answered prayers INSTEAD! And for a reasonable price too. Super happy with it.

yessica klein - Trustpilot

Great online transcription tools

Great online transcription tools! Save me a lot of time in video productions.

Winifred Chen - Trustpilot

Reviews This was the Easiest, cleanest, and MOST accurate transcription website I've used ... and I have tried A LOT!

Leah Byrnes - Trustpilot