About Happy Scribe
Happy Scribe uses the latest voice recognition technology to transcribe your video file to text within a few minutes. We accept over 15 video file formats including AVI, MOV, FLV, WMV, QT, and MP4. There is also no file size limit and we are able to transcribe over 119 languages and accents, including English, French, German and Spanish.
Start Free Trial
How to use Happy Scribe's video caption generator app?
Upload your video file. No size restriction and the first 10 minutes are free.
We auto transcribe your file. Your file will be converted from video to text in just a few minutes using our video caption generator app.
Proofread and Edit. The caption video generator has a very high accuracy rate, but no transcription is 100% perfect.
Click on export and choose your preferred captions format. You've successfully generated auto-captions for video.
Reasons Caption Generator is Essential
Auto-captions for video are essential for a number of reasons. A closed captions generator assists with accessibility and provides a way for the millions of individuals worldwide that are hearing impaired to engage with your content. A video caption generator app can help boost SEO because Google can't index audio. Auto captions for video increase engagement because most people view videos on their mobiles without sound.
Frequent Questions
What are captions?
Captions are the words visible on a movie, television or computer monitor showing what is being said in a video. Closed captions are predominately designed for people who are deaf or hard of hearing and frequently include non-verbal sounds such a laughter, applause or a door slamming.
How do I generate captions for videos on social media?
The first step is to use a video caption generator app like Happy Scribe to convert the audio in your video to text and export the transcript as an SRT file. Then from your social media site, upload your video and SRT file.
What is the most used caption format?
The most popular (and widely accepted) caption formats are SRT and WebVTT. Accepted closed caption file formats vary depending on which site you're using to host your videos. Vimeo lists WebVTT as its preferred format, but also accepts SRT files.YouTube and Facebook also accept SRT formats.
What is the difference between subtitles and closed captions?
Essentially, subtitles assume an audience can hear the audio, but need the dialogue provided in text form as well. Meanwhile, closed captioning assumes an audience cannot hear the audio and needs a text description of what they would otherwise be hearing.
L'éditeur interactif
Decouvrez l'ultime outil de retranscription 👌
En synchronisant l'audio et le texte dans une interface claire et conviviale, la retranscription devient un plaisir.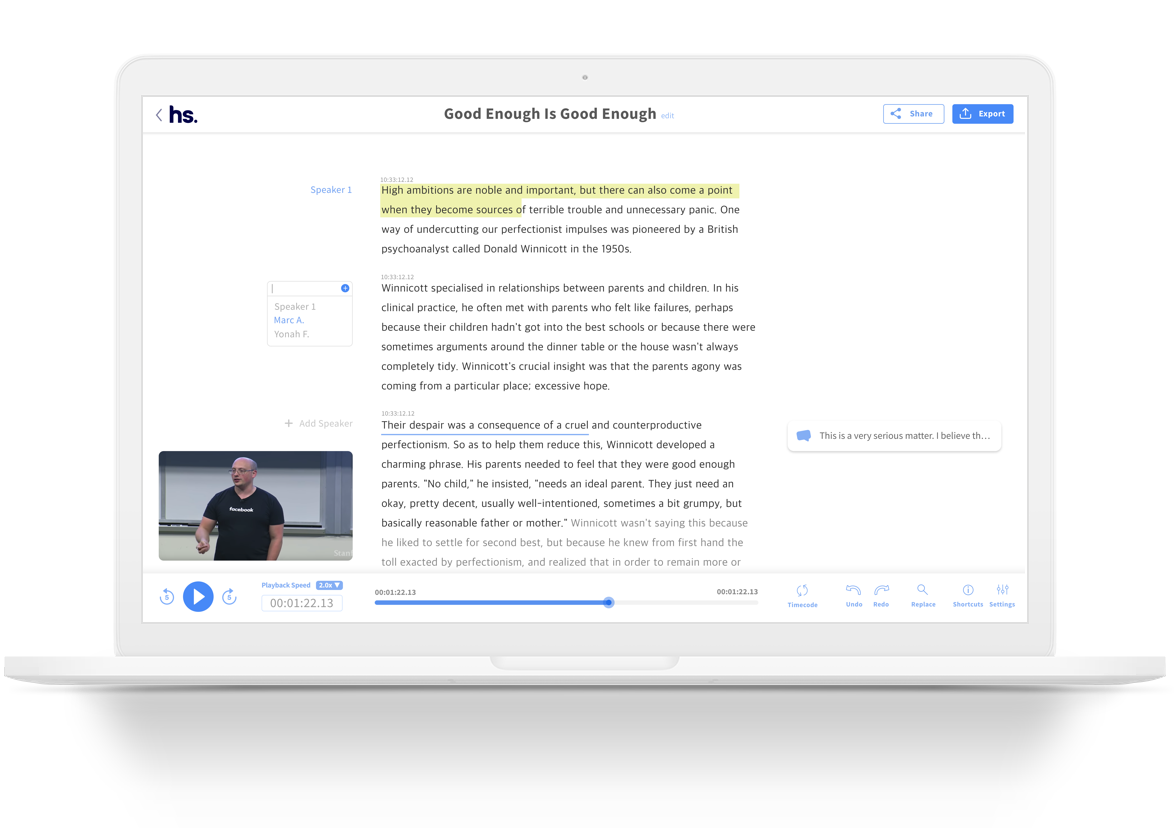 Identification des locuteurs
Nous reconnaissons quand le locuteur change. Vous avez juste à écrire leurs noms.
Surlignez et commentez
L'ajout de commentaires est utile lorsque vous collaborez avec des collègues.
Horodatages personnalisés
Ajoutez des horodatages où vous voulez dans le texte. (Peut être exporté)
Exporter vos transcriptions
Vous pouvez exporter vers Word, TXT, SRT, STL, HTML, AVID et Premiere Markers.
Partager publiquement
Vous pouvez partager une version "lecture seule" ou éditable de votre transcription.
Mode édition rapide
Corrigez vos transcriptions rapidement en voyant où nos machines se sont trompées.