How it works
Submit your application. Fill the form and take an assessment test. We'll be in touch as soon as possible.
Select a transcription. Show your magic and start working on the file that you selected.
Get paid bi-weekly. Get paid by bank transfer in your currency on a bi-weekly basis.
Hear From Our Transcribers
What do our transcribers – Scribes – say?
Why Should You Join Us?
Custom-made tool

Our transcription software is powered by the web. Our keyboard shortcuts will allow you to proofread even quicker.

Global community

Need advice from other transcribers? Having problems with the platform? We have created a fantastic online community to answer questions, help when you need it and, of course, share some fun.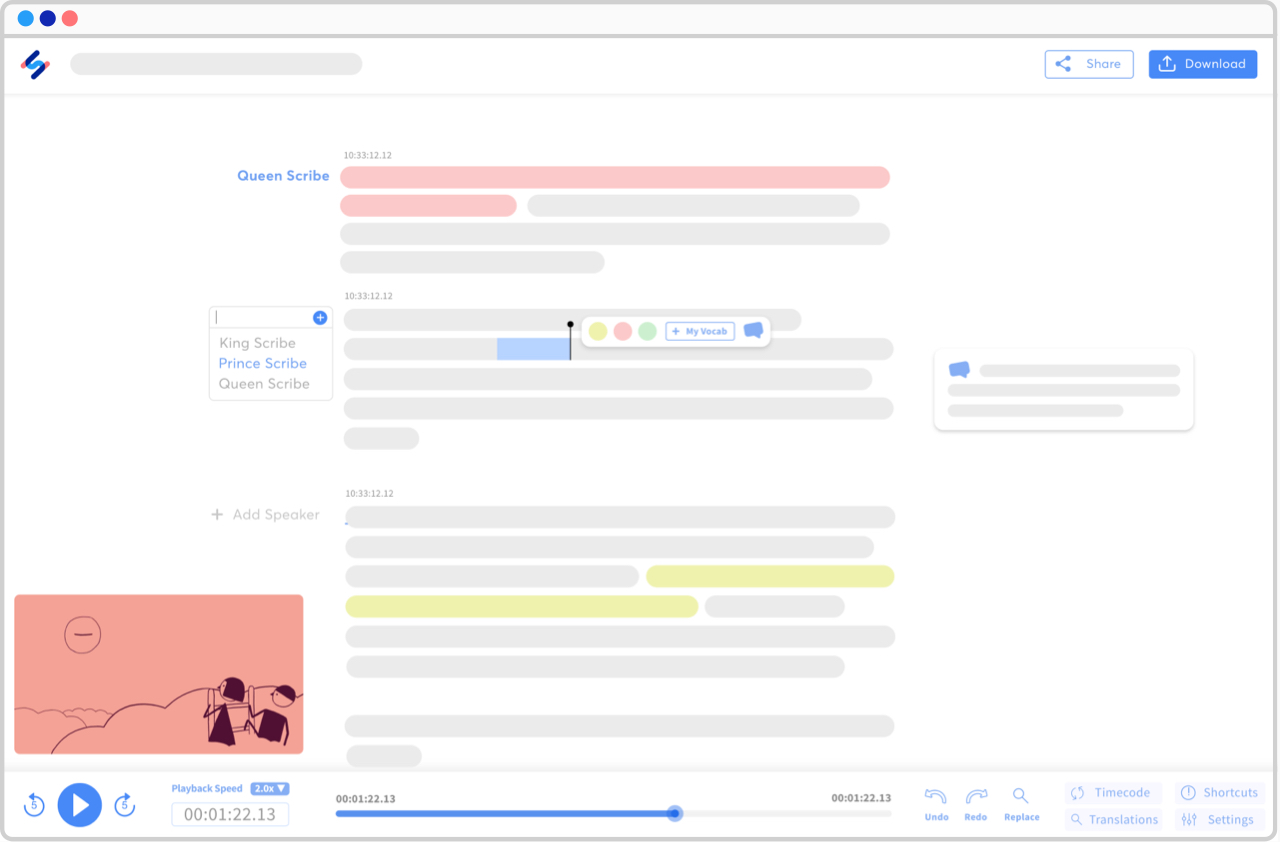 How to apply for a freelance transcription job?
Fill the details and select the language of your choice. We are looking for transcribers for the following languages: English, French, Spanish, German, and Dutch.

2. Skill Check.

For us to assess your transcription skills, you will have to proofread the transcript of a sample file. The transcription guidelines are your friend! Make sure to follow them. You will be allowed to check them during the test.

3. We review your application.

If you are a good fit, we will reach out by email.
Frequently Asked Questions
Can I work from anywhere?

Yes! This is a 100% remote, freelance position. All you need is a decent wifi connection and you're good to go!

How much will I get paid on average?

Depending on the quality of your transcription and the number of jobs you will take, the best transcribers earn more than €2,000 per month.

How will I get paid?

Through Wise (formerly known as TransferWise). We will make a payment to you every two weeks.

What kind of topics will I work with?

You will have the opportunity to work on diverse subjects across many different industries. From academic studies to YouTube videos, there are always new topics to work on.

Where do your transcribers come from?

Our transcribers come from every part of the world: United States, United Kingdom, Canada, France, Spain, Germany, Kenya, Philippines, and many more.