About Happy Scribe
Happy Scribe uses the best-automated transcription technology to transcribe interviews to text within a few minutes. We accept over 30 audio file formats including AIFF, M4A, MP3, MP4, WAV, and WMA. There is also no file size limit and we are able to transcribe over 119 languages and accents, including English, French, German and Spanish.
Transcribe my Interview
How to transcribe an interview?
Upload audio/video files. No size restriction and the first 10 minutes are free.
Our software to transcribe interviews will transcribe interviews to text automatically in just a few minutes.
Proofread and edit. Automatic interview transcription has a very high accuracy rate, but no software to transcribe interviews is 100% perfect.
Click on export and choose your preferred file format - TXT, DOCX, PDF, and HTML. It's that easy to record and transcribe interviews.
Benefits of transcribing interviews
When you transcribe interviews to text you make it easier to review and analyse what your interviewee said. It's simply much quicker to scan text with the eye. Additionally you can use commands like "CTRL-F" to find specific information in a transcript without having to waste time listening through long audio files. Moreover, transcribing interviews, allows an easy way to cut and paste accurate verbatim comments from interviewees. Specialized software to transcribe interviews can also provide team accounts, allowing groups to have access to the all interview data, enhancing teamwork.
Frequent Questions
Is it necessary to transcribe interviews?
Absolutely! When you transcribe interviews to text you ensure accuracy in reporting and make it easier to find story connections between interviewees. Our brain fills in the gaps when it can't hear what an interviewee said, but those words may not be accurate. And skimming and scanning the written words is much faster than streaming hours of audio, making story connections jump off the page.
How accurate is software to transcribe interviews?
Ongoing technological advances continue to improve the accuracy rate of automatic interview transcription. Depending on the audio quality, speaker accents, and technical jargon, the best software to transcribe interviews can achieve up to 99% accuracy.
How can I improve the accuracy when I transcribe interviews to text?
To get the highest possible accuracy rate when you transcribe interviews to text you need to upload a high quality audio file. To obtain a high quality audio file, it is advised that you maintain a consistent recording environment, avoid background noise, use quality microphones, and ensure that speakers talk directly into the microphone and avoid talking over one another.
How long of a file can I have transcribed?
Happy Scribe will transcribe any length of file. There is no file size limit, meaning you don't have to trim your interview audio and submit multiple files. We also accept over 30 audio file formats including AIFF, M4A, MP3, MP4, WAV, and WMA, making it quick and easy to transcribe interviews to text.
The Interactive Feature
Meet the ultimate transcription tool to edit text online. 👌
A text editor that synchronizes audio and text within a light and friendly interface, we've made transcription super easy.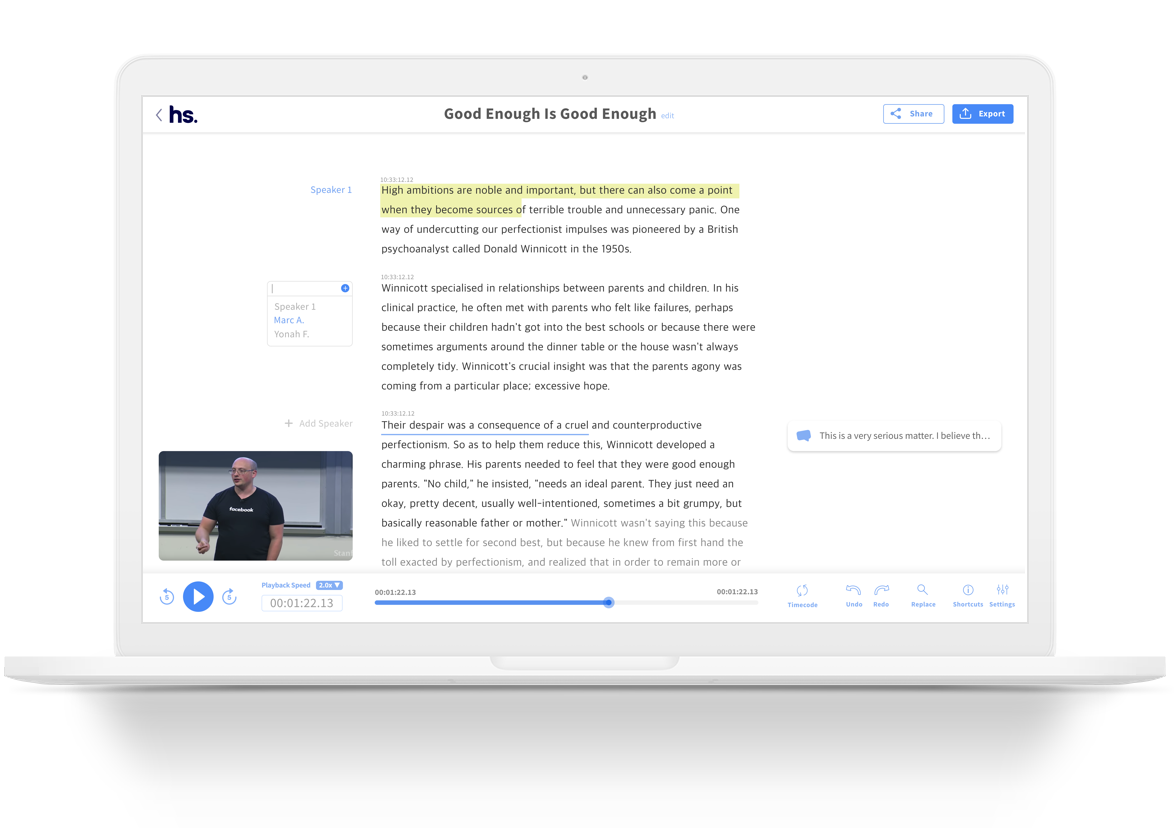 Speaker identification
We recognize when the speaker changes. You just have to write their name.
Highlight & comment
Adding comments is useful when collaborating with colleagues
Custom timestamps
Add timestamps where you want in the text. (Can be exported)
Export transcript
You can export in Word, PDF, TXT, SRT, VTT, STL, HTML, AVID and Premiere Markers.
Share publicly
On Happy Scribe, you can share a view-only or editable page of your transcript.
Proofreading Helper
Correct faster by looking only at the places where the algorithm struggled.