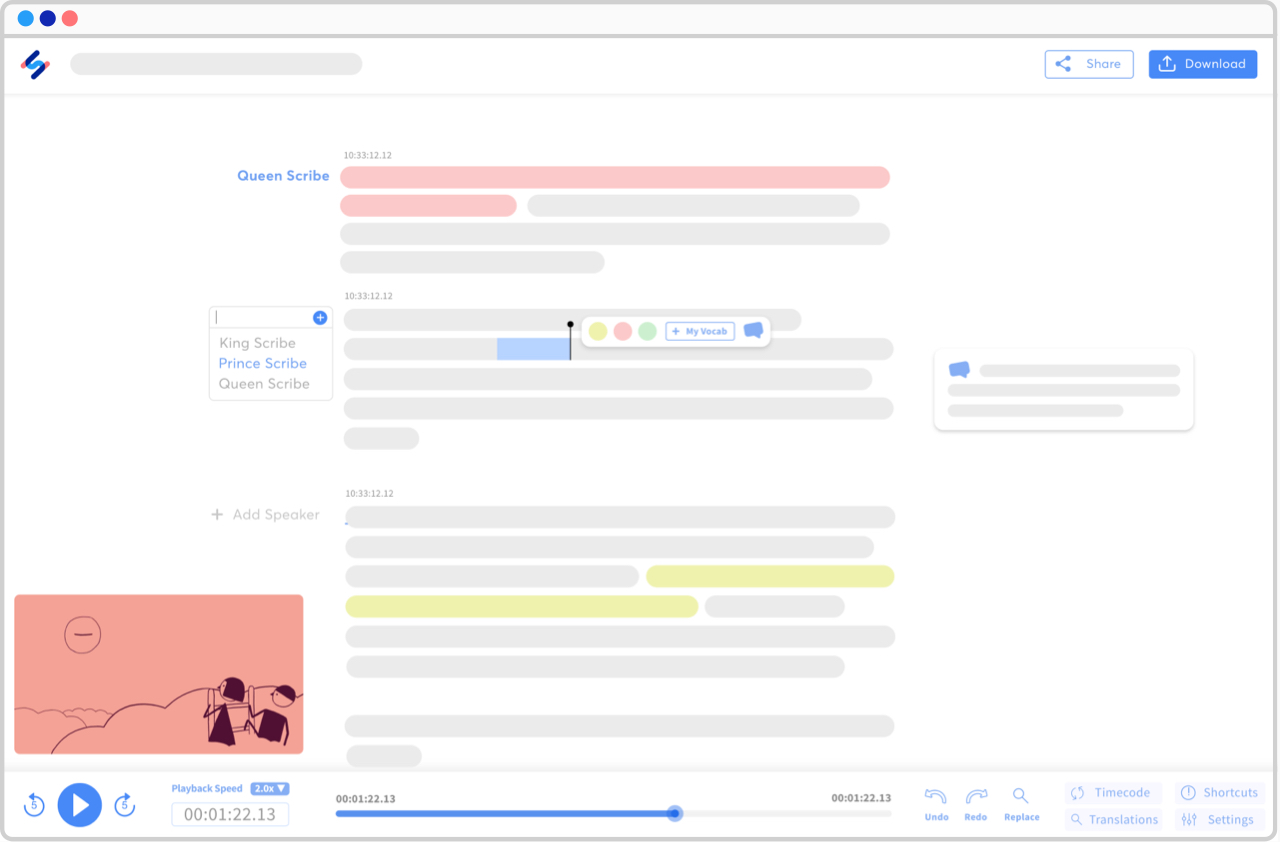 How to transcribe a Microsoft Teams meeting?
Start recording your meeting.Click on the 3 dots of the top right corner and go to "More options" > "Start recording".
The recording will be saved in "Share Point".Click on "More options" > "Stop recording" and your meeting recording will be processed and saved.
Upload your Microsoft Team Meeting recording.Click on "Upload A File" and select the file that you want to transcribe.
Select the language of your Microsoft Teams meeting.We support more than 120 languages, dialects, and accents.
Choose "Automatic" or "Professional".Our automatic transcription software is lightning fast and 85% accurate. With our professional service, your transcript will be transcribed and proofread by an expert and native speaker and delivered with 99% accuracy.
Receive your transcript.Our automatic transcription software can transcribe your Microsoft Teams meeting in just a few minutes (depending on the length of your file). If you select our professional service, your transcript will be ready within 24 hours.
Click on "Export" and choose your preferred file format.You can export to TXT, DOCX, PDF, HTML, and many more. It's that easy to have your Microsoft Teams meetings transcribed!
Frequently Asked Questions
What is Microsoft Teams?

Microsoft Teams is a unified communications platform that combines persistent workplace chat, video meetings, file storage, and application integration.

Can I transcribe a Microsoft Teams meeting?

Yes, you can! With Happy Scribe, you can extract the speech from your Microsoft Teams meetings or conferences and convert them into text.

Do you offer a professional transcription service for Microsoft Teams meetings?

At Happy Scribe, you can choose between professional or automatic transcription. Our professional transcription service will get your Microsoft Teams meeting recording transcribed in less than 24 hours with 99% accuracy. If you need to get your files faster, you can always rely in our automatic transcription software.
Customer Reviews

Rated Excellent 4.8/5 based on 450+ reviews
Great online transcription tools

Great online transcription tools! Save me a lot of time in video productions.

Winifred Chen - Trustpilot

Happy Scribe is exactly what I was looking for

Happy Scribe is exactly what I Was looking for. We Regularly tape our meetings in my business; we used to just keep the audio files for storage, now we can! em-have transcribed at a very attractive price.

Stefano - Trustpilot

Happy Scribe works increadibly fast. My file is transcribed in 10 minutes. The only thing is when i try to Correct Some Things, it takes a long time for the program to show the changes. Purpose overall a great time saver!

Michelle - Trustpilot

The quality of the transcription is…

The quality of the transcription is high and I am very Astonished de cette quality Compared with the one of other tools!

Denise Vella-Chemla - Trustpilot