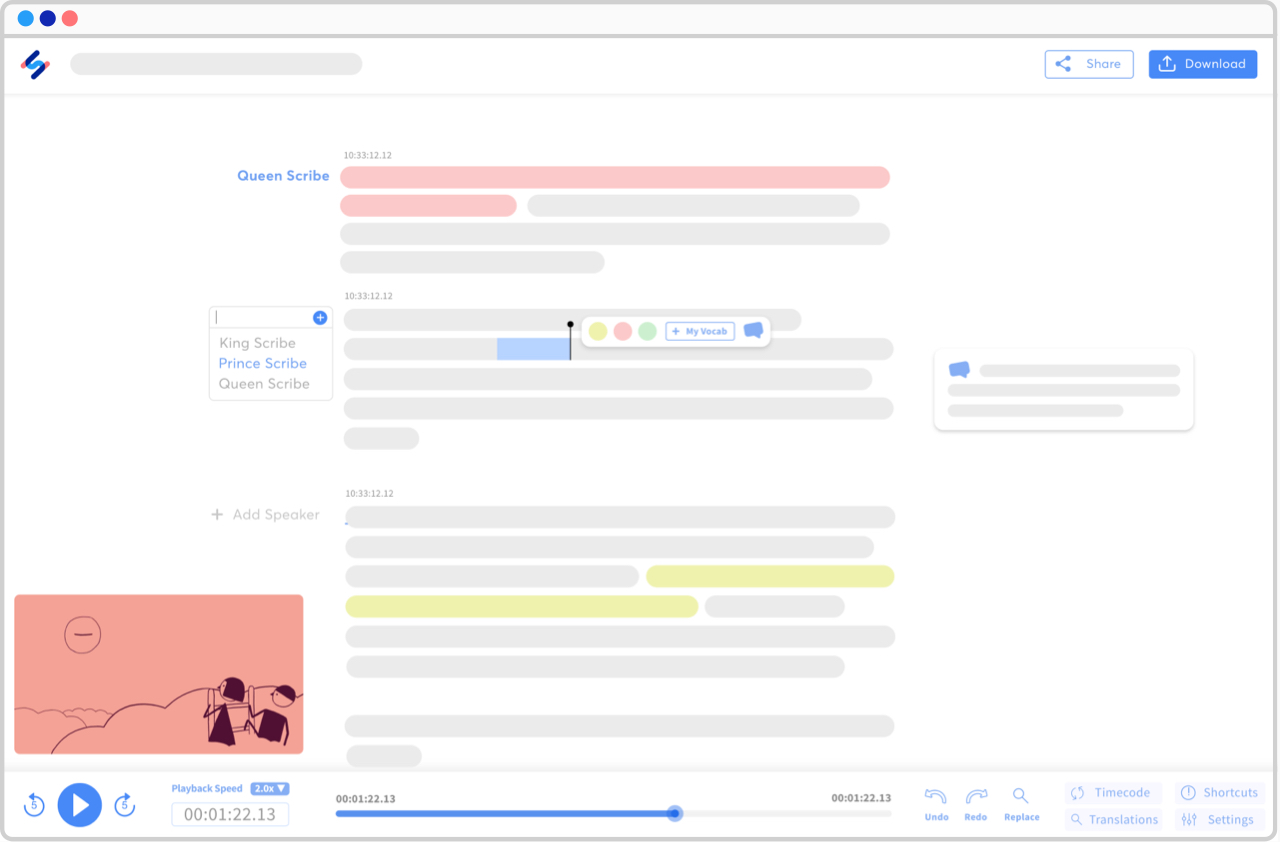 How to transcribe a Webex meeting?
Start the Webex Conference.Start as a host and click on the Record button.
Save the recording to your computer.Webex can convert the recording to .MP4 after the meeting is over so you can access the files from your computer.
Upload your recording.Click on "Upload A File" and select the Webex recording that you want to transcribe. Audio and video files will be saved as MP4 files whereas audio-only files will be saved as M4A.
Select the language of your Webex meeting.We support more than 120 languages, dialects, and accents.
Choose "Automatic" or "Professional".Our automatic transcription software is lightning fast and 85% accurate. With our professional service, your transcript will be transcribed and proofread by an expert and native speaker and delivered with 99% accuracy.
Receive your transcript.Our automatic transcription software can transcribe your Webex meeting in just a few minutes (depending on the length of your file). If you select our professional service, your transcript will be ready within 24 hours.
Click on "Export" and choose your preferred file format.You can export to TXT, DOCX, PDF, HTML, and many more. It's that easy to have your Webex meetings transcribed!
Frequently Asked Questions
What is Webex?

Cisco Webex is a popular enterprise video conferencing and webinar solution. Webex enhances interactive student participation thanks to it's annotation tools. The audio and video quality is excellent, which makes it easier to generate precise transcriptions.

Can I transcribe a Webex meeting?

Yes, you can! With Happy Scribe, you can extract the speech from your Webex meetings or conferences and convert them into text.

Do you offer a professional transcription service for Webex meetings?

At Happy Scribe, you can choose between professional or automatic transcription. Our professional transcription service will get your Webex meeting recording transcribed in less than 24 hours with 99% accuracy. If you need to get your files faster, you can always rely in our automatic transcription software.
Customer Reviews

Rated Excellent 4.8/5 based on 450+ reviews
Hugely sped up my qualitative research…

Hugely sped up my qualitative research process.

Stuart Kehoe - AppSumo

excellent! I transcribed scientific audio text, not Clearly spoken, still got a nice transcript

Bernd - Trustpilot

Good app with great usability

Good app with great usability. Does what it says. The audio to text engine is very accurate (better than Kapwing's Beta qui I've tested Extensively). Seems Team is dedicated constant improvements, too. I'm happy I purchased this!

Marc Green - Trustpilot

Great online transcription tools

Great online transcription tools! Save me a lot of time in video productions.

Winifred Chen - Trustpilot